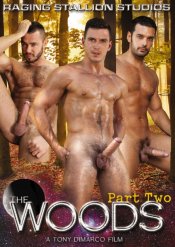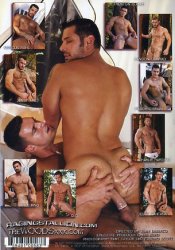 Also available:-
The Woods part 1


Summary:
In the primal redwood forests of California, the unspoiled serenity is threatened. In The Woods, something is going hump in the night. People are reporting odd noises and flashes of blinding light. Men who have never looked at other men find themselves overcome with raging hard-ons and an irresistible need to suck, fuck or get fucked. And, people are disappearing! Some speculate that there are aliens in The Woods, abducting people. Could it be? And, could this be somehow related to the powerful, rough, gay erotic urges that are coursing through these sexy studs' veins? Award-winning director Tony Dimarco's tale of sexual mystery continues in The Woods Part Two where the victims are possessed by some unexplained force moving them to commit out-of-this-world acts of intense, hardcore, energized fucking, whenever and wherever opportunity presents itself.
Description / Review:
Scene 1: Jessy Ares, Landon Conrad
Landon Conrad gets separated from his buddy while he is hiking, and something has comeover him. He sits down on a stump to catch his bearings when the sexy Jessy Ares appearsnaked before him. Whatever has Landon disoriented, makes him hungry for cock, and he'sovercome by the sight of the furred, bearded, rampantly hard man marching in his direction.The overwhelming need for cock and sex that has possessed them both lead them to eachother, and they go at it ferociously. Landon slurps up Jessy's cock, but sucking is notenough for Landon, who turns Jessy around to feast on his ass. Landon goes right in for thekill without waiting for reciprocation, and he begins to plow Jessy's ass.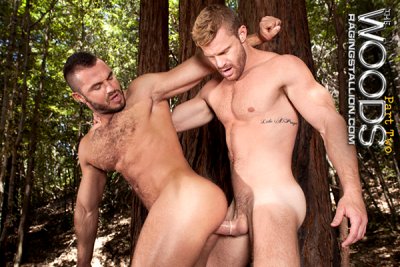 The compulsion toconnect outweighs concerns of being seen as manly chests heave in tandem and Landon'scock breaches Jessy's hole again and again. Giving his ass a rest, Jessy orally services thecock that fucked him, using his hand to increase the sensation and the heat. Stopping beforeLandon can shoot his load, Jessy splays him over a stump and fucks him in return. Landon'storso curves inward, bringing his abs and chest muscles into high relief and he strokes hiscock into releasing all his built up jizz, with Jessy's eruption of cum mixing with Landon's.

Scene 2: Marcus Ruhl, Paddy O'Brian
Also available: The Best Of Paddy O'Brian (Compilation)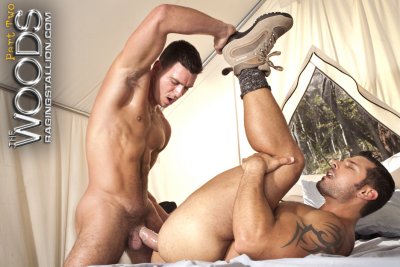 Paddy O'Brian takes up residence in one of the room-sized tents on the North side of TheWoods. The sleeves are torn out of his red plaid shirt, which is the only thing he's wearing.Paddy reclines on a pillow, legs spread, playing with himself. His cylinder of flesh is as thickas his wrist, and it serves as a beacon. Fellow camper Marcus Ruhl invites himself in,reclines alongside Paddy and helps himself to a mouthful of cock. Paddy watches intently asMarcus feeds, flexing his hips to set a pace that makes his balls boil. Marcus gurgles andslurps contentedly. These studs are working each other so hard they build up a sweat. WhenMarcus stands to shuck his shorts, his muscled arms, quarter-sized nipples and heavy uncut cock loom into view. Paddy nods approval and Marcus lowers his meaty buttocks onto thewaiting beer can that is Paddy's cock. Paddy grabs both buns and Marcus groans out inpleasure and pain as he accommodates the entry. Paddy gives Marcus a moment, thenpounds him in every which way. Paddy's enormous cock tests Marcus's endurance to itslimits until there's no alternative but to spray the tent with their spooge.
Scene 3: Jesse Santana, D.O.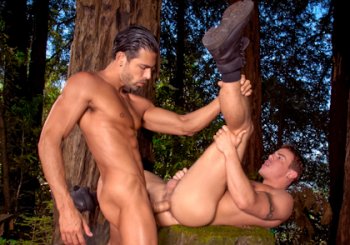 Jesse Santana and D.O. venture deep in the woods for a scorching tryst. Jesse is backedagainst a redwood, locked in an intense embrace. The seat of his jeans is shredded and D.O.is fiercely kneading those scrumptious buns. Scrumptious means D.O. can't wait to bury hisface in that musty crevice. He licks it, chews it, spits on it and plugs it with his thumb likecorking a wine bottle. Jesse is overcome with the need to be taken. He ferociouslyface-fucks himself on D.O.'s engorged cock until the blood vessels in his neck seem likelyto burst. D.O. has to stop him or bust a nut. Then D.O. claims the rest of his prize, pushingJesse against the tree again and fucking him through the torn pants he is still wearing. Jessereaches through his legs to finger his hole and clasp D.O.'s cock while he's getting fucked.When Jesse can barely stand any longer, they move to a stump. Jesse hyperventilates whenD.O. tongue-fucks his freshly-fucked ass, then plunges his nose into the relaxed andyielding hole, and then give Jesse a second serving of cock. When Jesse grabs his swollencock, it spews jism all over his chest and pierced nipples. D.O.'s mighty orgasm follows,arcing high and long onto Jesse's face and hair and into The Woods beyond.
Scene 4: Kyle King, Charlie Harding, Trenton Ducati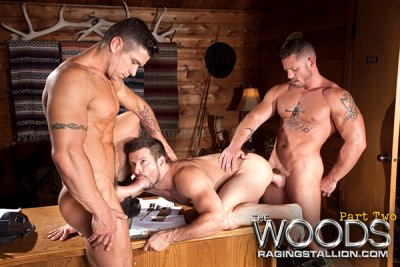 Kyle King is wandering naked in The Woods. At ranger headquarters, Trenton Ducati is drafting his report of several missing persons when Kyle enters in a daze, his hard on demanding attention. Trenton's hand is quickly stroking Kyle's cock. Trenton leads Kyle to his desk for an examination that requires touching every inviting part of him. Trenton eases a butt plug into Kyle's pulsating hole. Trenton taps it and laps at it, then moves to Kyle'staint, his balls and up his cock. The plug moves in and out controlled by Kyle's will, as Trenton sucks his rock-hard cock. A pearl of precum at the tip of Kyle's penis signalsTrenton to trade the butt plug for hot Trenton's massive dick. While Trenton's fucking Kyle with total abandon, in walks Ranger Charlie Harding, who sees the steamy twosome.Instantly, Charlie gets involved, reaching out to explore Trenton's torso. Trenton steps aside and Charlie sinks his throbbing meat into Kyle, who takes it from behind while he sucks Trenton, whose cock still radiates the heat from Kyle's ass. Charlie never saw his boss naked, but now he's going to fuck him — fulfilling his unrequited lust. Trenton's cock is a beacon for Kyle's mouth and soon their cum is flying as a mysterious blinding light shines upon them.
Additional Information
Categories: UK R18 / XXX Gay Adult, Paddy O'Brian Gay DVDs
Running Time: 99 mins, Year: 2012
Price: From around £32*
Starring: Benjamin Godfre, Paddy O'Brian, Shawn Wolfe
Director: Benjamin Godfre, Chris Ward, Tony DiMarco
Studio: Raging Stallion
Buy DVDs online at: Simply-Adult.com, Homoactive and Radvideo (USA)
Download Raging Stallion titles at: Homoactive (UK / EU) and RadVideo (USA)
Downloads / Gay Video on Demand: Raging Stallion, See also: www.GayVOD.co.uk
Country: USA, Language: English
Additional info: No Regional Coding