Summary/ Description: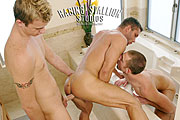 Michael Brandon brings you his greatest all-out sex-fest, Bang That Ass. The title says it all. The party starts off in a backyard with the boys getting a chance to see each other with clothes on. Watch carefully in because the rest of the movie no one wears anything. Minutes in, the action starts and the boys are banging in every room. Every hole gets filled!
Tyler Dawson and Max Schutler are throwing a house party. After putting out lube and condoms for everyone, Tyler takes a huge dildo and warms up Max on the kitchen table. With Max on his back and legs in the air, he takes the dildo like a pro. His beautiful asshole relaxes as Tyler penetrates him with the huge toy. Max is an amazing specimen of a young man: full muscular build, large pecs, and an ass that invites action. Tyler starts out slow and gentle but soon works himself into a frenzy shoving the dildo in and eating Max's ass as he pulls it out. Max's hairy hole loves the dildo and the camerawork shows you close ups as it slides in and out. This action builds to a nice cumshot which quickly gets everyone excited.
Soon the whole party moves inside and an all-out oral orgy rages in the dining room. With five guys, five big dicks and lots of hungry mouths, the oral action here is comprehensive - everyone gets a taste. Carter Longway has a huge, fat dick and C.J. Knight can't stop sucking it. Tim Kruger, Marcos David and Alexy Tyler form a triangular suck-fest in one corner while C.J. takes Carter's big dick. Tim's fat cock is another star in this scene. When it's time to cum, C.J. wants it all over him. He kneels on the floor with three men above him and they cover him in cum.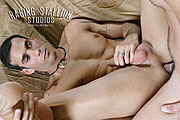 All this action leads to Marcos fucking Max back on the kitchen table. This time, Marcos' big dick takes place of the dildo. Marcos David is a big hairy Latin stud with a fat, uncut cock. He pushes his dick into Max's hot ass without any hesitation and fucks him with a lot of enthusiasm. Max's ass loves the attention and the groans from both these men is overpowering. These two uncut studs bang away on the table and the camera catches every inch of penetration. Marcos pumps Max until neither can take it anymore and he shoots his load all over Max's muscular chest. Max can't help but follow his lead and shoots all over himself in no time.
Next, the guys move to the living room for non-stop fucking. Monster Bang is all about fucking and this living room scene provides plenty of big dicks and hungry holes. Marcos is still horny and his swinging dick quickly finds a new hole to fuck. This time, it's Carter who gets his pounding. Carter's dick is so big that it reaches Marcos's mouth even while they fuck. They move from the couch to a new position on the floor with the dick always in Carter's hole. No matter the position, Carter gets fucked constantly and loves every second. Carter must have tired out because next thing we know Marcos is fucking Alexy. Alexy has an amazingly lean and muscular body with dark tattoos adding to his appeal. Alexy bounces up and down on Marcos' fat cock like a pro. Soon Marcos is ready to shoot and Alexy can't wait to get sprayed. Alexy kneels on the floor and is covered in cum. After Marcos shoots, Tim steps in to take his turn. Alexy gives the big-dicked dude a nice blowjob but can't finish the job. Carter returns and sucks off Tim, then they switch. With Tim's expert help, Carter sprays his cum all over Tim's face. Without a pause, Alexy returns wanting a new hole to pound. CJ bends over to take it. Soon Tim wants a turn and shoves his big dick where Alexy's dick used to be. Again, C.J. wants to be coated in cum so he kneels on the floor and gets covered.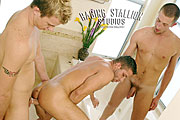 These guys never get enough! Carter and C.J. meet up in the brightly lit bathroom for a round of fucking not to be missed. Carter bends C.J. over the bathtub and gives it to him hard and long. Carter may look young and innocent but his dick knows where the good stuff is. He stuffs C.J. over and over and soon Tyler joins the pair, lending his mouth to C.J.'s cock while Carter is still fucking away. C.J. can only take so much and blows his load all over the floor. Now it's Tyler's turn to get fucked and Carter doesn't miss a beat. While they fuck, Alexy strolls in and asks for his turn. Carter pulls out of Tyler and sticks it in Alexy with Tyler watching. Tyler blows his load as Carter gives one more man his dick. Alexy's ripped body provides ample motivation for Carter's big dick and soon the two are popping all over each other and the bathroom floor.
Max is waiting for a big dick and Tim is quick to provide. With Max's ass bent over the bed and spread wide, Tim shoves his dick into the hungry hole. These two are very hot together. Max has the perfect hole: young, pink and ready to be used. Tim has an amazing, fat cock and he knows how to use it. In this scene, the focus is on Max's hole and Tim's fat dick inside it. Tim pounds away while Max moans and groans. The camerawork here is spot-on, providing you clear and close-up shots of these two going at it. After a round of doggy-style, Max flips over and is ready for more. With muscular pecs and ripped abs, Max pulls his legs up to his chest and offers his hole to his big-dicked top. Tim follows through with his fat cock, pushing deep up inside Max's pleading ass. The action builds until both of them bust huge loads all over Max's chest.
From the first few moments to the last explosion of cum, Bang That Ass offers up a slew of hot men with huge dicks and the holes they fill. Michael Brandon and Monster Bang deliver again!