Summary:
Without chemistry, there is no desire. It is the essential element of sexual connection. Director Steve Cruz hand-pairs eight intensely sexual men with their 'Object of Desire' for Hard Friction's most passionate erotic exploration yet. Scruffy hunk Mick Stallone gets pounded by Bruce Beckham and Jason Vario in a sizzling three-way. Sporty East-coast bro Jeff Powers buries his boner in Bruno Bernal's Brazilian booty. Australian hunk Letterio Amadeo flip-flops with Mick Stallone in a passionate sexual exchange. Bennett Anthony takes a wet rim job followed by a deep dicking from Caleb Daniels. Get ready to achieve the ultimate sexual satisfaction with your 'Object of Desire.
Scene 1: Bruce Beckham, Jason Vario, Mick Stallone
With cameras pointing at them from every direction, three muscled men make out and grope each other's naked bodies. On the left, Bruce Beckham displays his massive chest. Scruffy stud Mick Stallone sits in the middle, and Jason Vario is on the right. Mick gets down on his knees to suck Jason's cock. Bruce stands up, and his massive cock swings through the air like a baseball bat. Bruce and Mick take turns deepthroating Jason's hard, uncut cock. Wet spit accumulates on Jason's shaft. Standing up, Bruce rams his jawbreaking cock down Jason's throat. Mick continues to stuff his face with Jason's meat. Jason falls backwards on the bed, and Mick sits on his face.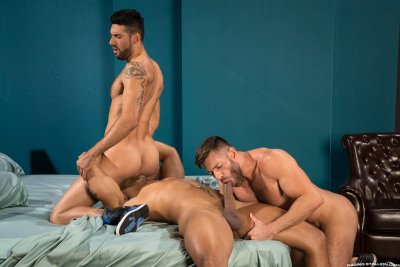 As Jason rims Mick's ass, Bruce uses his mouth to work Jason's dick. Returning the oral favor, Jason gags himself on Bruce's cock as Mick shoves his tongue inside Bruce's hole. Spreading Bruce's ass apart, Mick blows spit right into the center of Bruce's pink asshole and spreads it around with his tongue. Switching it up, Mick braces himself against the bed and takes Bruce's cock doggystyle. Jason moves behind Bruce and fucks him while standing. Bruce thrusts back and forth from the middle of the fuck-sandwich, turning up the heat. The three-way connection shared by these horny men amplifies the intensity of their deep, vigorous fucking. Mick is eager to have Jason's cock in his ass too, and Jason is happy to give Mick what he
Scene 2: Bruno Bernal, Jeff Power
Jeff Powers is a sporty jock from the East Coast who likes to take an 'active' role. Bruno Bernal is a furry, Brazilian hunk who loves to get his brains fucked out by tattooed studs. Since they're a perfect match for each other, they can't wait to get started. Beginning with deep kissing, Bruno quickly moves so swallow Jeff's lengthy, hard cock. The veins in Jeff's cock stand out as Bruno gets it wet with spit. With Jeff seated in a sturdy chair, Bruno lowers himself down on Jeff's cock, using his thick legs to go for an intense ride.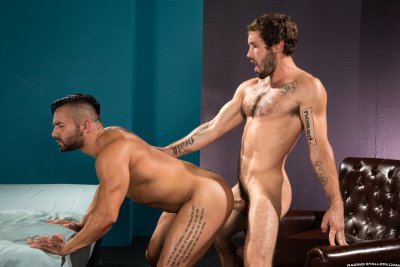 Jeff stands Bruno up on his feet and fucks him from behind, and Bruno bends forward to take Jeff's dick as deep as possible. Jeff's lean, hairy body drips with sweat as he pounds the hell out of Bruno's juicy booty. Laying flat on his back, Bruno puts a leg in the air as Jeff pile-drives his cock into Bruno's hole. As Jeff picks up speed, Bruno strokes his cock until he ejaculates with a burst of cum across his hard abs. Jeff shoots a series of enormous ropes that land right on Bruno's cock and balls.
Scene 3: Letterio Amadeo, Mick Stallone
Mick Stallone is a scruffy versatile stud from Montreal who loves making out and rimming. Letterio Amadeo is a beefy Australian top who puts all his passion into fucking. They both crave the intimacy of eye contact. As they make out and rub against each other in bed, Letterio quickly assumes a dominant position over Mick and begins giving him head. Wet saliva coats Mick's cock shaft as Letterio works the sensitive head with this thick lips. Letterio gets up on his knees and feeds his cock to Mick. To enhance his pleasure, Letterio plays with his own plump nipples, one of which is pierced. Spinning Mick around, Letterio dives tongue-first into his ass.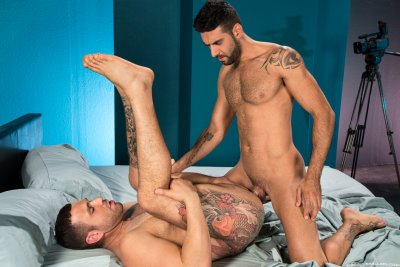 The slick spit from Letterio's rim job gets Mick's ass ready to get fucked. Standing up, Letterio begins a doggy-style fucking that stretches Mick's hole wide and deep. Exploring his versatility, Letterio lets Mick have a go at his ass: with Letterio's legs in the air, Mick pounds his hard meat into Letterio's tight hole. The intense fucking puts Mick at the cusp of orgasm, and he jerks out his load directly on Letterio's dick. Using Mick's cum for lube, Letterio strokes his thick meat until he spills his cum across his hairy stomach.
Scene 4: Bennett Anthony, Caleb Daniels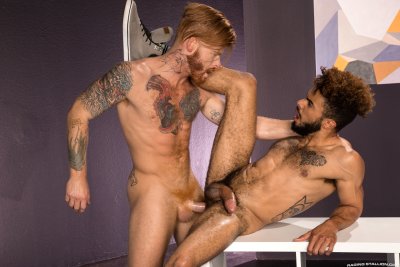 Caleb Daniels hails from Philly, loves rimming, and relishes an intense, connective rapport with his sexual partners. Bennett Anthony is originally from South Carolina, enjoys running, and likes to get aggressive. As they make out and stroke each other's cocks, they establish a deep, intimate connection. Bennett eagerly gets down on his knees and inhales Caleb's cock, which puts Bennett's furry ass on display. Caleb then buries his face in Bennett's ginger bush, and his hairy ass spreads wide. Bennett bends over a chair and Caleb pushes his scruffy face into Bennett's ginger crack. Caleb's expert rimming makes Bennett gasp and moan with pleasure. Standing up, Caleb thrusts his cock into Bennett's receptive ass. With Caleb's big cock filling him up, Bennett flexes his muscular body while jerking his cock. Switching it up, Caleb gets on his back and Bennett fucks him with mighty thrusts. Their cut abs and tight pecs flex as they ramp up speed and intensity. Jerking his cock, Caleb releases enormous cum geysers that splatter across his stomach. Pulling out of Caleb's ass, Benett positions his cock right above Caleb's and releases his hot, white load.