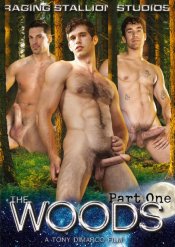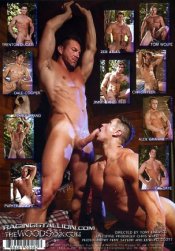 Also available:-
The Woods part 2


Summary:
In the primal redwood forests of California, the unspoiled serenity is threatened. In The Woods, something is going hump in the night. People are reporting odd noises and flashes of blinding light. Men who have never looked at other men find themselves overcome with raging hard-ons and an irresistible need to suck, fuck or get fucked. And, people are disappearing! Some speculate that there are aliens in The Woods, abducting people. Could it be? And, could this be somehow related to the powerful, rough, gay erotic urges that are coursing through these sexy studs' veins? Director Tony Dimarco has crafted a tale of sexual mystery where the victims are possessed by some unexplained force moving them to commit out-of-this-world acts of intense, hardcore, energized fucking, whenever and wherever opportunity presents itself. Whatever is happening in The Woods Part One will have you possessed and jerking your meat for hours on end.
Description / Review:
Scene 1: Dale Cooper, Parker Wright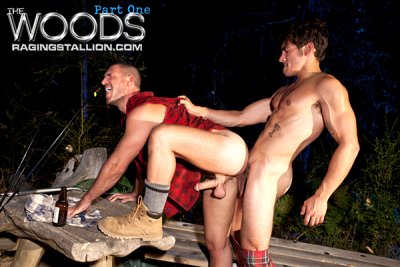 Illuminated by a flickering campfire, buddies Parker Wright and Dale Cooper muse about what might be "out there." Parker is skeptical, but when he goes to piss, the air is filled with a metallic hum. The energy goes straight to his cock, and he returns to face Dale, whose dick is also pulsing from the same energy. Possessed by whatever spirit this is, they relish shedding their clothes to expose their bodies and satiate their needs. Dale impales Parker's face in long, slow strokes, his jaw slack with the shock of how good it feels. Parker lifts a booted foot onto a rustic bench for Dale to invade the space between his buns. Dale mounts Parker like a man forced to relinquish self-control, and Parker only wants more. The firelight's red glare makes Dale's quivering cock look even bigger and more formidable as it assails Parker's hole. The awesome feeling must be shared, so Parker forces Dale onto the bench leaning, holding him down with two hands on his pecs to be fucked. Dale's balls throb, and he throws Parker off and fucks him a second time. Both men burst together as they are enveloped in blinding white light.

Scene 2: Chris Tyler, Alex Graham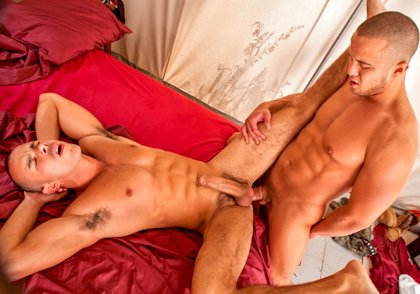 Chris's cock in his mouth. Chris revels in the attention and when Alexwants to make out and get sucked in return, he gets no argument. Chris knows cock, and heuses lips, tongue and hand on Alex's to bring him to groaning disbelief that this is evenhappening. Alex straddles Chris's chest and slides the crack of his hard-hewn buns alongChris's dick to invite entrance. Chris's cock slides in for unrelenting strokes, and when Alexrolls off, his own cocked is lubed and suited to fuck Chris. They flip, and Chris's hip flexormuscles move in more directions and at a faster pace than anyone's in porn. He grabs hishuge balls and puts his ass to work at maximum speed, shooting huge gobs of cream acrosshis abs that are answered by a load from Alex.
Scene 3: Tom Wolfe, Cal Skye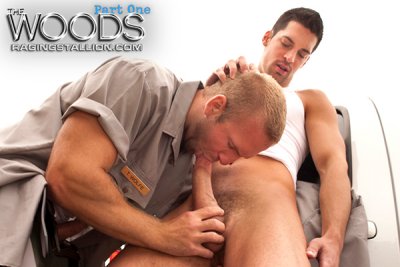 The ground is vibrating, but that's no earthquake. Something has taken possession of superstud, forest rangers Tom Wolfe and Cal Skye. Cal sees the erection in Tom's pants andknows Tom wants him to touch it, to help it grow. Cock springs eternal when Cal releasesTom's stiffening meat and bends low to inhale the aroma, lick the shaft and swirl his lipsaround the head. Tom unbuttons his shirt and Cal's hand reaches under the snowy wifebeater to rub his palm over the chest hairs. Tom grabs Cal by the belt and pushes himagainst their pickup. Cal's dick is so hard it practically tears the fabric of his boxers whenTom yanks his pants down. The 5 o'clock shadow on Cal's handsome face grows red asTom chokes and salivates over the enormous cock and balls confronting him. Cal jumps onthe tailgate and comes down with Tom's face planted between his butt cheeks. He reachesback to spread his buns, easing passage for invasion by Tom's cock, the final act ofpossession. First on his feet, then on his back, Cal is the epitome of a dark-haired dreamboatwelcoming this anal invasion. His cock streams jism across his abs then he cranes his neckforward and opens his mouth to capture the hot cum spuming from Tom's cock.
Scene 4: Jimmy Fanz, Zeb Atlas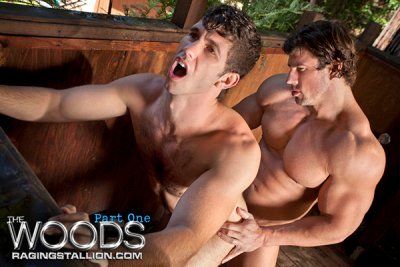 Jimmy Fanz is the kind of guy who when you see him, you want to do him: great legs, cutesmile, slim, furry body with little or no manscaping. Jimmy has a huge case of hero worshipfor Zeb Atlas, who takes him fishing in The Woods. The fish aren't biting, but the samecannot be said for Jimmy and Zeb. Packing up, Zeb tells Jimmy to go shower, and Jimmycan't resist the lure of warm water and soap to engage in a fantasy j/o, starring Zeb, butwhen the real Zeb steps under the spray with a hardon to match Jimmy's, Jimmy can'tbelieve his luck. First he runs his hands all over Zeb's mountains of muscle, then he sinks tohis knees. Using a hand to stroke Zeb's shaft, Jimmy slowly teases the head with his lipsbefore leaning in to swallow Zeb's meat. Jimmy's jaw is at full gape as he struggles not togag when Zeb grabs his neck and pushes to achieve deeper penetration. Zeb rewards him with a kiss, then turns him 180 degrees and spears his ass from behind — Jimmy's wildestdream come true. When Jimmy's prostate can't take another thrust without cumming, theymove to a bench and Jimmy sits on Zeb's cock for a slower, gentler round of thrust andslam, until the cum pours down.
Scene 5: Trenton Ducati, Tomas Brand
Trenton Ducati is the forest ranger in charge of the area being barraged with reports ofmissing persons and strange occurrences. His tireless efforts to get to the bottom of themystery leave him exhausted. Trenton passes out to be awoken by a naked mysterious stranger, Tomas Brand. Tomas stands at the foot of Trenton's bed, and we're left wondering, it's not clear if he's him playing bottom to mysterious Tomas Brand, a smooth, hot muscledaddy who makes Trenton levitate off the bed and come back down hard, horny andneeding to be sucked and fucked.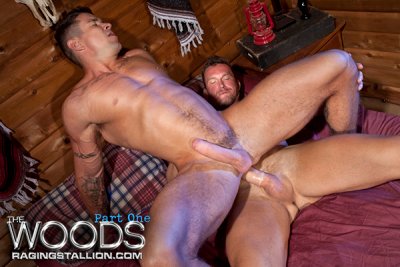 Resistance is futile, not that Trenton could say no toTomas's hot mouth and his determination to make Trenton's balls tingle and his nipplesstand on end. On his back, Trenton tucks his knees into his armpits, giving Tomas full accessto his pulsing hole. Tomas presses his advantage with tongue, fingers and cock, milkingTrenton's hard on while preparing his ass for an invasion. First Trenton submits, then hetakes charge in a sit-fuck that's better than levitation. The spooge flies
Additional Information
Categories: UK R18 / XXX Gay Adult
Running Time: 128 mins, Year: 2012
Price: From around £32*
Starring: Jimmy Fanz, Cal Skye, Dale Cooper, Alex Graham, Chris Tyler, Parker Wright, Tom Wolfe, Tomas Brand, Trenton Ducati, Zeb Atlas
Director: Tony DiMarco
Studio: Raging Stallion
Buy DVDs online at: Simply-Adult.com, Homoactive and Radvideo (USA)
Download Raging Stallion titles at: Homoactive (UK / EU) and RadVideo (USA)
Downloads / Gay Video on Demand: Raging Stallion, See also: www.GayVOD.co.uk
Country: USA, Language: English
Additional info: No Regional Coding