Summary:
This stunning two-disc major movie is the brainchild of GAYVN Award-winning Director Tony Dimarco. The Visitor is a voyeuristic journey of raw casual encounters and lust-filled sex; cocks have never been so hard and assholes have never begged for more!
Description / Review:
The Visitor stars GAYVN Performer of the year Logan McCree as Epoc, a scientific researcher from far away who comes to study the fucking and sucking of the male species. His research opens his eyes! Watching thrusting cock drive deep into male ass infuses Logan with a deep-seeded desire to penetrate and be penetrated. Logan begins preparations for his ultimate experiment!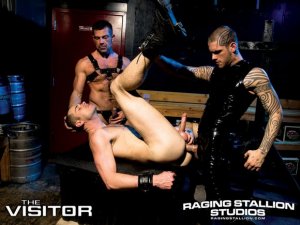 Seeking out the vibrations in his research, Epoc combs through the streets of the city, invisible to the human eye. He is pulled by these unseen forces until he is ultimately pulled to the center of it all: the Castro in San Francisco. As day turns to night, Epoc comes upon two guys outside a local bar in the Castro. The two muscled men are heavily making out against the bar, and as their lust builds, they decide to take it a step further and head to a side alley. The two hot studs, Angelo Marconi and Junior Stellano, enter the alley unnoticed... or so they think. They kiss passionately as their hormones rage, with Epoc studying their every move. Shirts come off revealing Angelo's large, smooth chest and Junior's hairy, Italian body. Their kissing increases as belts are fumbled with and soon Angelo is on his knees sucking Junior's fat cock. Angelo can't get enough of Junior's man meat in his hungry mouth. Angelo sucks this stud's cock, sending heat waves up Junior's entire body. Junior moans in ecstasy, enjoying the sensation, but that's not enough. Junior pushes Angelo to the wall in this tight alley and unleashes Angelo's uncut beauty. Junior works Angelo's cock, the heat building with no sign of subsiding. Angelo becomes the aggressor and pushes Junior back to the other side of the narrow alley, fucking Junior's mouth. Junior continues to suck Angelo's meat then turns him over for what he's really after, Angelo's hot, smooth ass. Junior buries his face between Angelo's ass cheeks and devours his hole, getting it worked up and ready for his engorged cock. Junior gets up and rubs his hard and ready cock against Angelo's hot ass. Angelo grinds back in eager anticipation. Junior fumbles with a condom from his pocket, rolls it over his tool and, in no time, is deep inside the Latin stud's tight hole. Angelo moans in pleasure as Junior fucks him against the brick wall. Junior fucks him deep and hard, fast and slow, and Angelo begs for more. Junior bends Angelo over a garbage can and continues his banging. Angelo takes it and only wants more. Junior turns Angelo onto his back and, with his legs lifted, enters him deeper. Junior picks up the pace and fucks Angelo till he cums all over his own sweaty, smooth stomach. Junior pulls out and releases his white spunk all over the Latin stud. Epoc, standing inches away, feels the intense vibration, almost cumming himself. The two men dress and hurry out. Angelo turns to look back at the alley. He sensed that he was being watched but no one was there...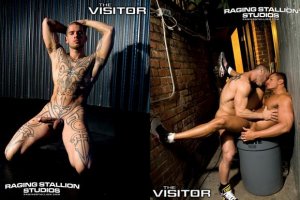 idst the pumping music on a crowded dance floor of sweaty men, Epoc spots two young club goers, Dominic Pacifico and Austin Wilde, entranced in the groove. Oblivious to their surroundings, they are engrossed each other's bodies. They grope and kiss as their bodies intertwine, the passion rising between them. A man appears in the crowd that can see Epoc, but how? His vibration is too high to be seen by the human eye. As quick as he appears, he is gone. Epoc turns his attention back to the dancing men. He follows as they move to another part of the dance floor then disappears behind the large speakers that pump the loud dance music. They kiss deeply and their bodies meld into one blur of sweat and lights. Dominic kisses down Austin's wet body and unleashes his hard cock from his pants. Dominic takes Austin's large, hard cock into his mouth and sucks in ecstasy. Austin then returns the favor and savors Dominic's wet cock. The two swap blowjobs as Epoc observes. After some more passionate sucking and kissing, Austin bends Dominic over a speaker and begins to rub his cock against Dominic's smooth ass. Dominic pushes back in anticipation. Austin enters and Dominic is flooded with a wave of lust. Austin pounds Dominic's sweet hole, watching his cock go in and out. He then flips Dominic over and enters deeper into him, their bodies now one mass of vibrating ecstasy. Epoc feels the deep vibrations as Austin thrusts deeper and harder. Dominic shudders and explodes all over himself and Justin soon follows, shooting white gobs of semen all over Dominic's sweat-soaked body. The two meld once more in an impassioned kiss... Epoc absorbs the energy, only wanting more.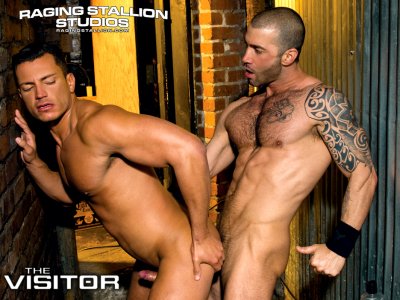 Epoc returns to his laboratory for more experimentation. Reclining in his control chair, Epoc touches his tattooed body as he watches and controls the large screen displaying visions of men having sex. He selects and enlarges them one by one till he finds his choice viewing. As he watches the earlier scene of the two guys from the alley, Epoc strokes his fat, uncut cock. He plays with his nipples as he watches intently. He strokes his dick, then takes an electronic apparatus and impales it on his cock. The machine pulses and vibrates in syncopated rhythm to the action on screen and Epoc feels the sensation. As he watches the two in anal penetration, Epoc takes out a smooth probe and teases his hole with it. He wants to feel the depth of what a man feels like inside him, and he pushes the probe deep into his hole. Stroking his dick and probing his hole, Epoc experiences some of the sensations of man-on-man sex, but only from a distance. His probing and jerking intensifies while he remembers and feels the vibrations of lust through his memory recall. He increases his pace and cums for the first time all over himself.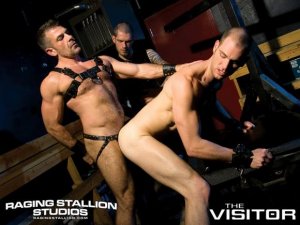 Two stoners getting high in a back alley are oblivious to the close encounter they are about to have. They toke on their pot pipe as the static charges begin to crackle. Epoc is attempting to materialize down to Earth. His body becomes physical then quickly snaps back to his vibration. He tries again and is successful; leaving the stoners to wonder if what they had just witnessed was real. Epoc walks off and enters a leather bar. He walks to the back of the bar where the patrons notice him, but in his gear he does not seem out of place here. In the backroom, a slave tied to a St. Andrew's cross is being dominated by his leather master, Bruno Bond. The master uses tit clamps and pulls on the chain, elongating the pain/pleasure. Epoc comes closer to watch. The Master, leading the scene, fondles and teases the slave under his control. Epoc comes closer and feels the slave's human skin. The master allows this stranger to join into the role-play of pain and pleasure. Bruno kisses the slave, and then lets Epoc's tongue enter the slave as well. Soon the slave is unshackled from the cross and the three continue their game. Epoc goes down on the slave's cock, seeing what it feels and tastes like. The salty cock tastes good in his mouth and he eagerly sucks as the slave feels the new, warm mouth on his cock. Once the slave's mask comes off, the three men enter into an ever-evolving fuckfest. Epoc and Bruno switch off topping the willing slave and eventually Epoc ends up in the middle, fucking the slave while being fucked by the master. He experiences it all while hidden in the anonymity of the dark backroom.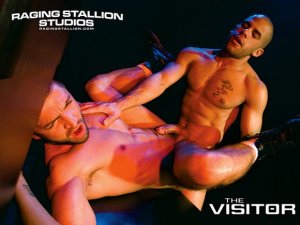 Heading back to the Castro, Epoc watches the throngs of people walking the street. Epoc is in search for more but what is it that he seeks? He seeks the vibrations of pure love. Epoc watches two lovers, David Taylor and Lucky Daniels, on the street as they look at each other deeply and kiss with a soulful connection. They hurry back to their apartment to continue their heartfelt reunion. Epoc perches above and observes. The men move their lovemaking over to the bed and Epoc transports them over to his lab for closer study. David kisses down Lucky's body and takes his boyfriend's growing cock into his mouth, getting it all wet. David continues sucking then goes back up to Lucky's mouth to give him a taste. Lucky enjoys David's beautiful, tattooed body and works his way down to David's cock. Lucky loves his boyfriend's big, hard cock in his mouth but he soon climbs on top and aims it at his waiting hole. Lucky sits atop David's hard cock and rides it in pleasure, all while Epoc monitors their lovemaking. David then turns Lucky over to get at his beautifully formed round ass. David rubs the length of his cock between the cheeks of Lucky's smooth ass. He points his flesh torpedo at Lucky's hole and slowly pushes it in. David pumps his cock in and out of Lucky's tight hole until his pace picks up and he is fucking him hard. Lucky loves the feel of his lover's hard cock deep inside his ass, pulsating in and out. Lucky turns over so he can see David's face as he is getting pounded. David looks into the pleasure of his boyfriend's eyes as he pounds him to climax. David pulls out his cock and dumps his love stream all over Lucky. Exhausted, they collapse on top of one another, and Epoc's desire grows deeper.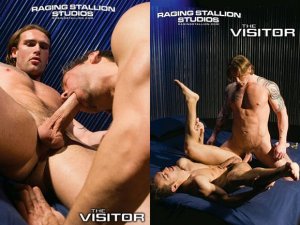 Back in his laboratory, Epoc remembers his journeys. He's seen many types of man sex, from the causal to the deep connection of lovers. He's felt what it feels like to touch human skin but the sex-only vibration of the S&M scene was not what he was looking for. Epoc yearns to feel the connection and higher vibration of the lovers' lovemaking. He then remembers the one who could see his vibration. The mysterious figure from the club! He travels back to Earth to find this mysterious being. Going back to the club, Epoc discovers him and they connect in an instant. The stranger, Damian Rios steals Epoc away to his apartment. They kiss deeply, joining their energies. Epoc sucks on Damian's cock and savors the taste as he works his way up and down his shaft. Damian then works Epoc's cock; Epoc allows the pleasure to seep through his veins. The two bodies entwine and Epoc allows Damian to put his dick inside him. Epoc feels instant waves of pleasure spread through his body. The two feed off of each other's vibrations. Epoc then takes his cock and enters Damian's body. Epoc works Damian's hole as he pulsates in and out of him. Epoc, wanting more, moves onto his back and Damian again enters Epoc's body. Damian thrusts his cock deeper inside, increasing his pace. Epoc strokes his engorged member feverishly. Damian thrusts harder now, fucking Epoc into ecstasy; Epoc lets out a loud groan as he spews large gobs of cum all over himself. Damian pulls out and cums all over Epoc. The two men collapse intertwined into a glowing mass of energies.
Additional Information
Categories: UK R18 / XXX Gay Adult
Running Time: 180 mins, Year: 2009
Price: From around £33*
Starring: Logan McCree, Bruno Bond, David Taylor, Angelo Marconi, Junior Stelland, Austin Wilde, Cole Streets, Damian Rios, Lucky Daniels, Dominic Pacifico
Director: Tony DiMarco
Studio: Raging Stallion
Buy DVDs online at: Simply-Adult.com, Homoactive and Radvideo (USA)
Download Raging Stallion titles at: Homoactive (UK / EU) and RadVideo (USA)
Downloads / Gay Video on Demand: Raging Stallion, See also: www.GayVOD.co.uk
Country: USA, Language: English
Additional info: No Regional Coding