Summary/ Description:
Acclaimed director Chris Ward brings us Bedroom Eyes, his first major film since last year's block busting Arabesque. Just as Arabesque was an extended study of male imagery, Bedroom Eyes is an exploration of the classic beauty of men in the most erotic possible context. Ward has found fourteen of the hottest actors alive and he has filmed them as only Raging Stallion can. This is an international movie, with a cast of the hottest models from the US, England, France, Spain, Eastern Europe, and Latin America. The sets are gorgeous lofts, estates, gardens, hot tubs, and bedrooms. This is, simply put, a beautiful film from start to finish, enhanced by an all-new soundtrack crafted by JD Slater.
Each scene - from the opening duo to the hour-long grand finale fiveway - is a movie unto itself, each evoking an individual sprit, like chapters chronicling the pageant of a seductive story. Ward has used old Hollywood movies to name each scene, the meaning sometimes obvious but other times not. To put it plainly, Bedroom Eyes is an artistic triumph of huge proportions. This will be another classic Chris Ward feature that will stand the test of time.
Scene 1: An American in Paris
Cast: Francois Sagat and Kyle Lewis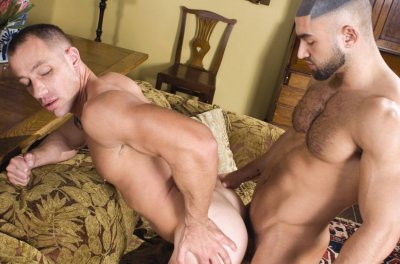 French stud and Raging Stallion Studios top model Franois Sagat performs in an extended scene (over 30 minutes long) with Kyle Lewis, one of the most inviting men in the world! Kyle, who has made a name for himself in other top-shelf productions, serves as the perfect switch-hitting partner to Franois. Francois is at his physical peak - reaching a muscular apex that represents the high point of his career. Not since his debut performance with Huessein in Arabesque has he looked better. This scene is a fitting crown on his spectacular career! The setting is a stunning living room at a luxurious country estate. The surroundings fade quickly from mind as these two proud gay men enjoy each other right before your eyes. Kyle eagerly sucks Franois's thick, uncut cock as his hands follow each and every curve of the Frenchman's hairy, muscled chest. Franois then returns the favor, taking Kyle's cock to the root, his bearded jaw looking great as he tries to take it all! Suddenly, both men cum streams of hot jizz onto each other. Kyle licks his own cum off Franois's chest. Kyle eats Franois's hole - licking, munching, and grinning from ear to ear. Hard cocks tell us how much these guys are into each other! Kyle, unable to resist the urge to hit third base, shoves his cock up Franois's hole, fucking him fervently in a mesmerizing performance! Kyle quickly offers Franois his ass and spreads his hole wide! Franois needs no convincing as he steps up to the plate and fucks Kyle's begging hole. This is the first major Franois topping scene we have ever filmed. The under shot of his cock sliding in and out of Kyle's chute, both sets of balls hanging in the air, swinging in exact rhythm with each pounding thrust, is something for the "best of" record book. After getting a real manfuck, Kyle switches back into top mode and throws a real French kiss up Franois's muscled hole. They fuck until it's over, a second full set of roping cum shots leaping thru the air, falling onto each other. They kiss. Fade to white.
Scene 2: Double Indemnity
Cast: Anthony Martinez and Matt Cole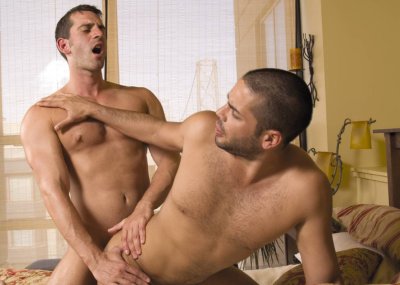 Setting: A high-priced condo in downtown San Francisco. Open on a balcony with Matt Cole and Anthony Martinez in silhouette, the afternoon sunlight brightly lighting the skyscrapers of the city. Matt Cole looks like a young Mel Gibson--he may be one of the best looking men alive! Anthony Martinez is just as hot, but he also has a huge, uncut, massively thick tool between his legs. Matt and Anthony continue with lots of foreplay featuring kissing and touching. If you watch their eyes you can see their energy quickly building. Next you expect to see the oral part of the scene, but no. Skip all that and jump straight to rimming. Anthony really eats out Matt's prefect hole--watch it wink aggressively every time Anthony pulls off--almost like it is talking to him, saying "don't stop!" But more intrusive things are on the menu, so the rimming does eventually stop, replaced by....Matt Cole fucking Anthony! But wait a minute! We thought Matt was our bottom boy! Well, after you see him fuck with his rock hard rod you will never ask that question again! It's a great fuck, lots of energy and stunning vistas of Matt's beautiful body. Suddenly, just like in the first scene between Franois and Kyle, Matt is thrown to the bottom position as Anthony drills his thick cock into Matt's hole! Matt goes crazy and the fucking really takes off. This is one of the most energetic scenes ever filmed, and the fucking is over the top! You will not believe it when you see Matt's hole hang open as Anthony's thick tool draws out! The fucking gets faster, even violent, as these two muscle studs lose control. Soon it is all about the cum shot - and Anthony gives us a huge one, leaving Matt, cock still hard, lying on the bed. As Anthony retreats from the room, Matt collapses on the bed, exhausted. He falls to sleep.
Scene 3: Dirk Jager and Matt Cole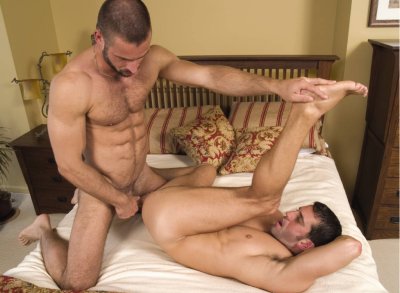 A pair of hands caresses Matt Cole's ass, waking him gently from his slumber. Someone else is in his room! Introducing Dirk Jager! This Raging Stalliondiscovery is the hottest new find! He is a god, no doubt about it. Dirk, from Berlin, has the face of a movie star and what may be the best 8-pack gymnast body ever filmed in any gay erotic movie. Dirk can't resist sucking Matt Cole's cock. The oral part of this scene is a love story - and it gives you great close-up, filthy shots of Dirk's eye-catching face. If these are not Bedroom Eyes, nothing is. This blowjob will be a favorite part of the movie for all men into oral sex. You must see it to believe it! Matt then takes his turn on Dirk's dick, sucking and swallowing in gay porn heaven! The fucking that comes next shows off how amazing these men look. Neither are muscle bound, but both have the clearly defined physiques of Olympian athletes. This is another great fuck scene and both guys shoot great, well-filmed loads to wrap up a sizzling sex scene!
Scene 4: Cat On A Hot Tin Roof
Cast: Alex Corsi, Marcos Pirelli, and Rafael Alencar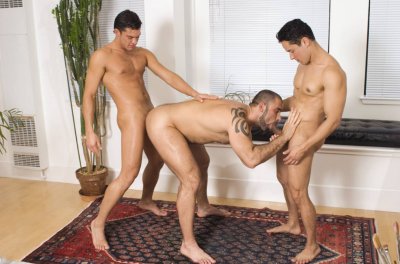 A massively endowed three-way is our next scene, featuring ever popular Rafael Alencar, RSS exclusive Marcos Pirelli, and RSS discovery Alex Corsi. Alex, a man's man from Milan, Italy towers as a monument to masculinity. His broad, hairy chest is irresistible, and his voluptuous ass is a magnet for any top for miles around! The austerity of the surroundings showcases the beauty of the three performers. Chris Ward has long wanted to shoot a scene on white. When offered an all white set he jumped at the chance. Add to this a great jazz track from JD Slater and the scene is set - top notch A-Gays fucking away in their natural environment! The results are spectacular. The action starts with Alex gagging on Rafael's giant, 10+ inch cock. He then works on Marcos's dick before taking both in his throat at the same time! It is too much and all three guys blow their first load! Then the fucking begins! Rafael starts off, plowing the way we like it here at Raging Stallion. That means a big, long cock, fucking from tip to root, in and out, non-stop with no end in sight! Alex loves it--he can take anything! Marcos fucks him in the face at the same time, a double-ended, overwhelming example of full body manipulation. When Marcos takes his turn on Alex's rear, Rafael shoves his tool deep into Alex's face. Rafael really does have one of the best dicks on earth--you can't take your eyes off of it! We let the camera show it off big time--if you are a lover of beautiful cock, this scene is designed for you! After fucking Alex's holes for what seems like hours, Rafael pulls out and drops a load of cum right next to and around Alex's hole--really playing with danger on this one! Alex goes crazy as both he and Marcos shoot their loads.
Scene 5: The Poseidn Adventure
Cast: Martin Mazza and Tamas Eszterhazy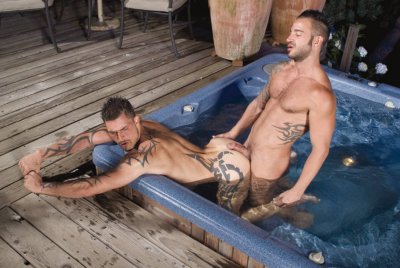 Open on an enticing hot tub in the middle of a beautiful moonlit garden. Romance is in the air and Tamas Eszterhazy and Martin Mazza are kissing in the warm water. Tamas is one of Raging Stallion's top new exclusives - a tight, stunning, gorgeously tattooed man in his late twenties. This guy is hot - one of Gay Porn's hottest performers. We are very, very glad to have him in our camp! Martin Mazza is an import from Barcelona, Spain. Martin reminds us of the kind of guy we founded our company upon - hairy, young, muscled, oversexed...you get the drift. After getting a bit of cock worship from an adoring Tamas, Martin dives in and gives us the best rim job of the film. Tamas's ass looks perfect, especially when his sphincter is winking wildly asking for more! Martin can't get enough, and only stops when his dick is so hard that it hurts. His cock looks great ramming up Tamas's ass! They fuck in several, well-exposed positions, showing off for you guys at home! Both of these men are exhibitionists and they are getting off on being watched as much as getting off on each other! As they perform for you they are having the time of their lives! The scene ends with spectacular cum shots as the moon sets behind the steam rising from the water. It's a great scene and another example of Raging Stallion at its best!
Scene 6: Dinner At Eight
Cast: Dirk Jager and Tag Adams
Tag Adams (aka Chet Roberts) returns home from shopping and starts to put away the groceries. As he bends over the refrigerator, Dirk Jager sneaks up behind him. Tag is a serviceman, and he gives great service to Dirk. Dirk's body looks like a million bucks, standing tall, muscles flexing! He lives for pleasure - and Tag does his best to keep his stud happy! Tag is known for taking a good fuck, and Dirk delivers right where it counts!
Scene 7: Brendan Austen, Dean Monroe, Derrick Hanson, Martin Mazza and Tamas Eszterhazy
Brendan Austen, Martin Mazza, Dean Monroe, and Derrick Hanson are hanging out on a sunlit deck in Wine Country. The sky is deep blue and the vineyards and ...
Features: Double DVD: Oral Sex, Anal Sex, Group Sex, Hard Sex, Rimming, Fingering