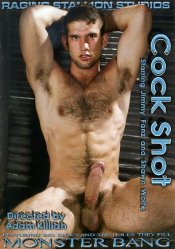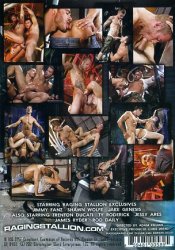 In This Series:
Cock Craze




Cock Shot



Summary/ Description:
Cock Shot is a deep, probing exploration of an all-male world, whose big-dicked citizens stalk in search of unrelenting bottoms. These hugely endowed studs and the holes of these ravenous bottoms cruise the barren world looking for their match, the men who will provide them with all the sexual gratification they desire.
Cock Shot is the second in Adam Killian's Monster Bang trio, in which he explores a post-apocalyptic vision where the normal order of human need - food, shelter, clothing - plays second fiddle to intense sex, and where orgasm is the prime directive. This world captures the sexual senses of every inhabitant, and each of the featured studs use up close and even penetrating body language is the preferred means of communication.
Scene 1: Trenton Ducati and James Ryder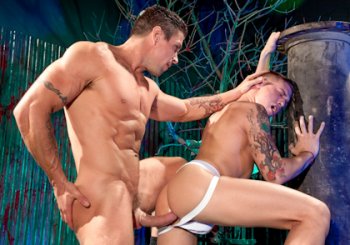 Tendrils of smoke curl from the cigarette Trenton Ducati flicks aside when he see the youthful James Ryder. Trenton is shirtless, his pants so threadbare, if he were on the street he'd be arrested. Here, they are an asset. Smooth muscle, chiseled pecs and a hint of pubic hair have drawn James. James hesitates, so Trenton pushes his head into an armpit, guiding a hand to his crotch. Trenton pulls out his rock-hard, curved cock and steers James' head until he gets that it's OK to suck. James is a natural, so Trenton's cock is soon glistening with spit and precum. Trenton demands to see James' ass, whose smooth curves lead to a dark, tight center. James' body is putty in Trenton's hands that pinch, slap and knead. James confesses his desire when Trenton sucks him: "I want your fat cock in me," and Trenton obliges. He shows James how to do a "powerdriver," which requires James to do a shoulder stand while Trenton stretches and eats his hole, then straddles and fucks it. James knows in this position he's supposed to cum in his mouth, and the convulsing of his sphincter muscles when he cums triggers Trenton's orgasm, mingling their spooge for Trenton to slurp.
Scene 2: Ty Roderick, Jake Genesis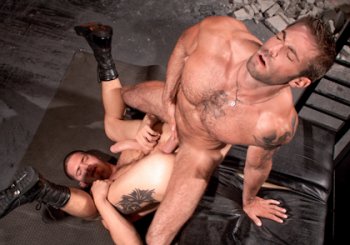 Ships that pass in the night. Jake Genesis and Ty Roderick assess the possibilities with body language, not words. Shabby clothing gives provocative views of what is concealed. Jake reaches out with a hand and Ty allows him to touch, moving his body to signal where he wants to be touched. Then Ty reaches out. They play a slow game of touch-and-move-away, each revealing more flesh when the other retreats, to lure him back. Jake tears his shirt to show a muscular chest covered in hair. Ty coaxes his cock out of his pants, inch by hard inch. They kiss. Ty's head glides from Jake's cock to his lips, inhaling every pheromone, and smiling. They use their lips, their tongues, their noses on all the exposed flesh, leaving cock for last. The rush of blood into Ty's erection makes it jerk as he sucks the hardon Jake offers. Jake turns: eat my ass. He lowers his ass, spider-webbed with hair, onto the upright tower that is Ty's cock. They thrust in counterpoint, first with Ty on his back, then with Jake on his back. They separate and in a surprise maneuver, Jake drives his cock into Ty, whose balls swell to send thick streams of jism coursing over his face. Jake sends his own load arcing across Ty's abs. He can't resist bending down for a taste … and a cummy kiss.
Scene 3: Shawn Wolfe, Jimmy Fanz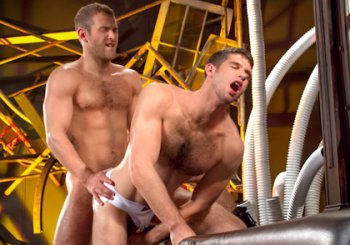 Lean, grizzled Shawn Wolfe carries a hard on for sexy, homeless stud Jimmy Fanz. He followed him to the decrepit building where Jimmy sleeps and his cock can't wait. When Jimmy falls asleep, Shawn pounces. He tears the seat of Jimmy's dilapidated shorts, exposing the plump, furry buns he lusts after, burying his face in their heat. Jimmy awakes and instinctively tries to escape, but Shawn holds him fast. Then Jimmy is overtaken by the intense realization of pleasure. He stops trying to get away. He lifts and spreads his butt cheeks, pushing Shawn's head deeper. Not bothering to remove his own jeans, Shawn lies full-length atop Jimmy and spears the warm crack. Jimmy groans, "Fuck me!" He cranes his neck to kiss his mounter. Wanting to prolong his sexual delirium as long as possible, Shawn goes back to eating Jimmy's ass. Fucking it … eating it. And again. Jimmy strokes himself while Shawn's tongue and cock alternately drill Jimmy's hairy hole. Jimmy flips onto his back in complete surrender. Both of them are completely naked now, fur and flesh in fierce contention. Jimmy's abs clench and his pecs flex as the mushroom head of his dick begins to spew. Shawn howls, raining down sweat and spooge for Jimmy to scoop into his mouth.
Scene 4: Jessy Ares, Rod Daily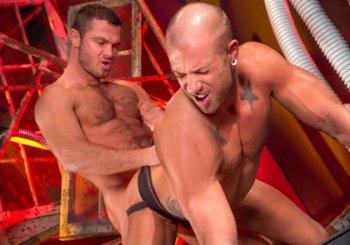 When Jessy Ares and Rod Daily find themselves both with nothing to do but stroke their hot meat, they pool their resources. Their cocks are already out and hard, it's just a matter of closing the distance and deciding who goes first. Bathed in crimson light, Rod swallows Jessy's cock, steadying and guiding it with a closed fist. When Rod's knees need a rest, Jessy climbs on an oil drum so Rod can stand and continue the gulping, slurping blow job. Jessy pulls Rod up for a kiss, spits in his mouth and makes him strip. Rod's muscular ass beckons. Jessy seals his lips around Rod's hole and his cheeks bellow as he blows and sucks to widen the opening for his tongue. Rod spreads his legs and arches his back, adding a verbal order, in case Jessy didn't get the message, that he wants Jessy's huge cock balls deep in him. Jessy twists his t-shirt into a bridle and wraps it around Rod's neck. Rod's body is an almost impenetrable mass of muscle, causing Jessy to work extra hard, erupting in cascades of sweat and semen as Rod pumps out his own load onto the floor.
Put the name Adam Killian on your list of new directors to watch out for, then grab Cock Shot and get transported to a sexual future where all the holes are waiting to be filled with the hugest dicks to be found.
Additional Information
Categories: UK R18 / XXX Gay Adult
Running Time: 147 mins, Year: 2013
Price: From around £32*
Starring: Jimmy Fanz, Jake Genesis, James Ryder, Jessy Ares, Rod Daily, Shawn Wolfe, Trenton Ducati, Ty Roderick
Director: Adam Killian
Studio: Monster Bang Video / Raging Stallion
Buy DVDs online at: Simply-Adult.com, Homoactive and Radvideo (USA)
Download Raging Stallion titles at: Homoactive (UK / EU) and RadVideo (USA)
Downloads / Gay Video on Demand: Raging Stallion, See also: www.GayVOD.co.uk
Country: USA, Language: English
Additional info: No Regional Coding