Summary:
When two horny men are naked together with nothing but sexual desire between them, it brings them both to a heightened 'State of Arousal.' Anything goes when Steve Cruz directs these erotically charged studs in connected, high-energy action, and the intensity of their sucking, fucking, rimming, and shooting knows no bounds. Sean Duran's dominant energy propels Tyson Glover into the sub mindset, giving up both his holes to service Sean's huge, hard cock. Hairy ginger stud Jack Vidra gets pounded by hung, muscled Tex Davidson, and their mutual erotic chemistry makes them bust huge loads. Jimmy Durano spreads X L's ass for a deep rim job before giving X L his cock sideways and bringing them both to overpowering orgasms. Colton Grey and Bruno Bernal dive headlong into heightened erotic revelry, and Colton fucks a hot load out of Bruno before letting loose with his own. When these horny fuckers enter the 'State of Arousal,' there's no turning back until everyone's balls are drained!
Scene 1: Sean Duran, Tyson Glover
When Tyson Glover sees Sean Duran, their mutual erotic chemistry propels them both into a heightened state of arousal. Sean, tattooed from head to toe, sits upright as Tyson services his cock. Tyson - lean, tanned, and with both nipples pierced - feeds off Sean's dominant energy, putting himself fully at Sean's service. As Tyson uses his tongue to slather Sean's cock with spit, Sean reaches for Tyson's ass and probes with his finger. Eager to get a taste, Sean lays flat so that Tyson can sit on his face. As he eats Tyson's ass, Sean's cock throbs with uncontrollable erotic spasms. <br></br>With their senses heightened by their intense connection, Tyson and Sean take things to the next level. Pointing his cock straight up, Sean invites Tyson to sit down and go for a ride. As he sinks down on Sean's thick rod, Tyson's ass stretches wide.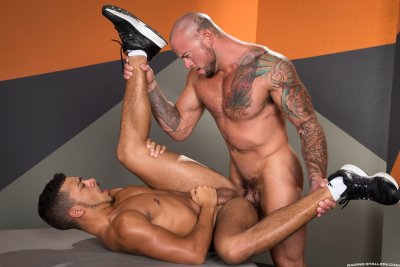 Sweat glistens on their toned bodies as they alternate between Sean thrusting up from below and Tyson raising and lowering himself from above. Getting on his back, Tyson spreads his legs wide and invites Sean to plow the depths of his hole. With his muscles bulging, Sean ramps up the speed of his thrusting, bringing them both to the brink of orgasm. Sinking to his knees, Tyson sucks Sean's cock, then opens his mouth as Sean's thick, hot load explodes over his face. Jerking his cock, Tyson unleashes his own gushing cumshot which erupts like a geyser all over the floor. Rising to his feet, Tyson presses his lips to Sean's in a final, passionate kiss.
Scene 2: Tex Davidson, Jack Vidra
With their big dicks, furry bodies, and thick beards, the masculine attraction between Tex Davidson and Jack Vidra pushes their sexual connection into overdrive. Jack shows off the tattoo covering his hip as he fondles Tex's throbbing boner. Tex presses his face into Jack's thick, red beard, and their lips stay locked together as they make out. Their intense arousal is evident in their enormous, rock-hard cocks. Tex grabs the back of Jack's head and presses it into his crotch, and Jack eagerly opens his mouth to swallow Tex's immense sword. As Jack crouches on his knees to service Tex's meat, Jack's ass parts to reveal the smooth, pink hole in the center.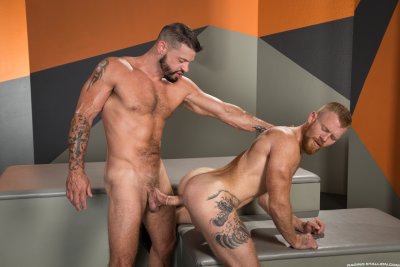 Eager to get a taste, Tex dives in tongue-first to give Jack a wet, slippery rim job. Using his fingers, Tex drills his spit into Jack's hole, then follows with his cock. As Tex pounds Jack's backdoor, Jack braces himself doggy style and flexes every muscle in his body, heightening their state of arousal. Rolling over, Jack puts his legs high in the air and Tex drills Jack's hole with full power. They move to a sit-fuck position with Jack raising and lowering himself on Tex's fat meat. When he's not jerking his meat, Jack's hard cock slices through the air. Returning to missionary, Jack blows his load as Tex slams his cock into Jack's prostate. Tex beats his meat until his cum explodes in an arc that splashes all over Jack's inner thigh.
Scene 3: Colton Grey, Bruno Bernal
Their tongues intertwined, Colton Grey and Bruno Bernal let go of their inhibitions and submit to the pull of their heightened sexual arousal. Colton's huge cock and heavy balls are irresistible to Bruno, who falls on his knees and inhales Colton's throbbing member. Colton leans back, savoring the sensation and showing off his six pack abs and colorful tattoo. Reaching for Bruno's ass, Colton works a finger into Bruno's hole, foreshadowing what is to come. Colton repositions himself behind Bruno and shoves his face into Bruno's ass. As he works his spit into Bruno's hole, he tugs on Bruno's balls to increase the sensations. With Bruno's hole lubed up, it's time for them to raise the stakes. Bruno sits on Colton's cock and goes for a hell of a ride, using his thick, muscular legs to raise and lower himself on Colton's girthy tool.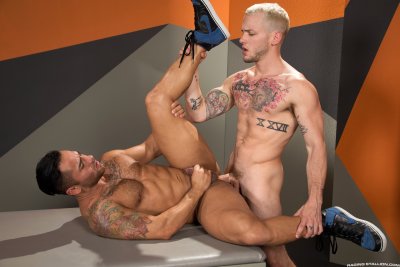 As he starts thrusting up into Bruno from below, Colton's big balls bounce and slap against Bruno's ass. Moving to missionary position, Bruno puts his left leg up in the air so Colton can pummel his hole with maximum penetration. The intensity of their sexual chemistry increases as their fucking becomes more and more energetic. With Colton pounding his g-spot, Bruno strokes out a viscous load that splashes across his leg. Grabbing his cock, Colton lets loose with a massive stream of cum that saturates Bruno's torso.
Scene 4: Jimmy Durano, XL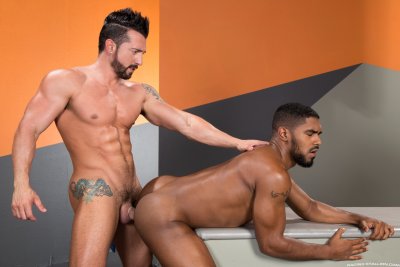 Jimmy Durano and X L kneel before each other, their senses heightened and their cocks at attention. The intense mental attraction to each other becomes physical as making out leads to deep cocksucking, with X L performing the impressive feat of swallowing Jimmy's extra-large uncut meat. As he sucks Jimmy's cock, X L's gorgeous ass crack spreads wide, revealing his tight, hairy hole. Jimmy's an ass man, and X L's perfect bubble butt is irresistible. Lapping with his tongue, Jimmy slathers his spit on X L's hole. When X L's ass is slippery and wet, Jimmy slides in with his girthy anaconda. Bracing himself, X L revels in the high-energy, connected sex. As Jimmy pounds with his considerable strength, glistening sweat reflects the light from their toned, muscled bodies. X L takes Jimmy's cock sideways, enabling Jimmy to penetrate deeply and hit X L's sweet spot. At the last second, just before he cums, Jimmy pulls out and unleashes a streaming gusher of cum that drips across X L's cock, balls, and taint. Stroking himself, X L blows his load on his stomach in a thick, white jet. Jimmy and X L's final kisses show their passionate state of arousal.