Summary:
A man's world is world of aggression. He wants to conquer and take what he wants, in life and in sex. That struggle makes a man decide who he's going to be. Thrust in the face of total domination some men submit, some men fight back and some men champion!
Description:
Ricky Sinz former MMA champion and owner of the South Side Gym gives a pep talk to his fighters. "You got to want it!" "You need to work in order to win". He pumps up his prizefighter Angelo Marconi getting him ready for the upcoming National Championship. Meanwhile sexy-tattooed Draven Torres wanders into the gym with a black eye. Determined to take no more, he's looking to learn how to fight back. "You've came to the right place," Drew Cutler replies and takes him under his wing.
Trent Diesel is a shit disturber with a twisted fetish. He's one hell of a fighter. Sure, he can really kick some ass but Trent also has another side— he loves to get his ass kicked. Trent will pick fights just to have aggressive sex with hot guys. Fucking and Fighting, Fighting and fucking is Trent's mantra. Late one night he follows Spencer Reed into the urinal and comments on the size of his member. "For a big guy you got a little cock". Spencer is not pleased but lets him off with a warning, so Trent does not relent. Spencer's buddy, muscle bound Jason Adonis has had enough and they exchange blows. Spencer and Jason hold Trent down on the pool table to teach Trent a lesson. "You think this cocks to small," says Spencer holding onto his large erect cock. "I'll show you what's small. Spencer shoves his fat cock into Trent's tight ass. Trent squirms is pain as Jason holds him down. Spencer rides him hard, they switch off and Jason fucks Trent hard with Trent enjoying every minute of it. Then Jason pulls out and forces his cock into Trent's mouth, he fucks his mouth with the same gusto forcing the cock in and out. Spencer then takes front position and fucks Trent's mouth as well swapping back and forth between the two big cocks. They force him back on the table and takes turns fucking him again till cum is flying from all other them. It may look like Trent lost the fight, but then again did he?
| | |
| --- | --- |
| | |
Angelo Marconi has been training hard but its Ricky Sinz' style to push him that much harder. When Angelo makes an illegal move Ricky lays into him. Angelo gets pissed off and walks out. Draven watches this unfold from the distance reminding him of what his home life is like.
Draven Torres joins the South Side Gym to learn how to defend himself, not from the bullies on the street but with the bully he lives with— his boyfriend Alexsander Freitas. Draven comes home after a long day of training to find his boyfriend at home watching TV. Alexsander is not happy that Draven has been spending so much time at the gym. As Draven is making food in the kitchen, Alexander will not be ignored and takes what he wants. He wants Draven's ass and he wants it now. He comes up behind Draven pulls down his sweat pants and stars grinding his already hard cock against Draven's hot ass. He bites him on the back of the neck and grabs his body hard. He forces Draven down on to his knees and fucks his face with his hard tattooed dick. He the bends him over the stove and shoves his cock fast and hard into Draven's ass and begins plowing him up against the stove. Draven wincing in pain but he knows he can't complain. Alexsander fucks him standing up then on all fours then pushes his face down and fucks him into the floor. He pounds Draven relentlessly until they both shoot big loads. Alexsander when finished slaps Draven's ass hard and sends him in to fetch him a beer.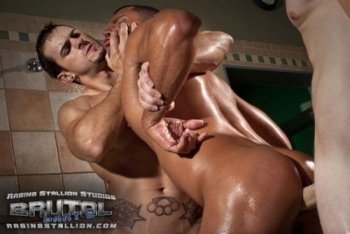 Angelo Marconi has been pushed to the breaking point before, but training with Ricky Sinz may have pushed him too far this time. He thinks, 'Maybe I oughta' see what Ricky's rival, trainer Brenn Wyson has to offer.' Brenn is surprised to see him and invites him in and offers him a beer. He shows Angelo a few key moves but it's not long before Brenn starts grinding his big hard cock into Angelo perfect ass. He kisses him deeper then the two are tangled in a new sort of position. Brenn sucks on Angelo thick cock then turns him over and fucks him on the carpet in several wild positions. To Angelo's surprise Brenn wants to be fucked. Angelo obliges and fucks Brenn's hole until he is moaning in pleasure. Then Angelo rides Brenn's cock one more time until the cum is spewing out of him, Brenn's stands up and shoot a nice creamy load all over Angelo's chest.
Race Cooper brings a "buddy" over to show him the gym after hours bumping into Angelo on the way out. Race and his buddy Park Wiley wrestle on the mat. Race pins Park but then Park pulls a reverse on Race and has him in a hold. It's not long before they are holding onto each other cocks. Park sucks on Race's fat dick as Race fucks his face. Race then puts Park on all fours and fuck his tight hole. The two flip flop fuck all over the wrestling mat before they shoot their hot loads all over each other. Being the training assistant has its benefits. All access to hot man sex.
Angelo comes back to South Side Gym wearing a big grin and a bigger hickey on his neck. Ricky goads him to get on the mat and fights him. He asks him where did he get the hickey from, Angelo ignores him. They spar on the mat Ricky pressing the issue until Angelo revels who his was with last night. Angelo tells him it was Brenn, Ricky's arch-rival. Ricky pins Angelo in a split second and gets him in a choke-hold. Angelo taps-out but Ricky doesn't let go. Several guys from the gym have to pull Ricky off from of Angelo. Ricky storms off, Angelo tries to catch his breath, what just happened?
Ricky's boyfriend/assistant trainer (Drew Cutler) follows behind to see what's up with Ricky. Ricky warns him to back off. Drew pushes the issue, he asks if this had something to do with his ex-best friend and rival Brenn Wyson. Ricky snaps and clocks Drew right in the jaw. Drew storms off downstairs followed by Ricky only to find that Brenn is downstairs to pay a visit. Ricky tells Brenn to get the fuck out of there and a scuffle ensues so large that the entire gym has to tear the guys off each other. Ricky blow through the gym like a speeding freight train. Agitated Ricky gets into another scuffle with two big truckers who kick the shit of Ricky.
Betrayed and beaten down, both emotionally and physically, he seeks refuge with his partner Drew Cutler. Drew asks what's happened already knowing what has transpired. Drew tries to make Ricky feel better and rubs his wounds and kisses his bruised face. Drew rubs out Ricky's aching body, pushes him back on the bed and tries to make Ricky forget the day by giving him a nice long blow job. Ricky reciprocates and savors the musty man scent of his lover— he grabs his balls and works Drew's cock with his hand and mouth. Next Ricky turns Drew over on to the bed and mounts his ass from behind. It's not long before Ricky is pounding his frustrations out on Drew's hot man ass. Ricky pounds him good and hard. Drew loves to get fuck as he pivots his hips back fast and hard with a wild motion to get more of Ricky's rock hard cock. Drew flips over and rides Ricky cock hard. Drew becomes the insatiable bottom riding with reckless abandon as his throbbing fat member flops around in his own lap. Ricky turns Drew over onto his back and pound Drew once more sending him into a white creamy orgasm. Ricky pulls out and add to the load with his own hot load. First round is over but the battle is just beginning. To be continued…