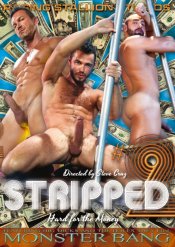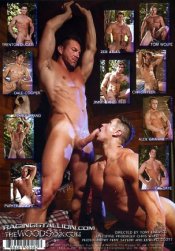 Also available:-
Stripped 1: Make It Rain


Summary:
The beat goes on and jism flows 'round the clock as strippers tease johns out of their dollars and johns tease strippers out of their clothes. In Stripped 2: Hard for the Money, from director Steve Cruz, distinctions between customer and dancer get lost as clothes pile onto the floor and limbs entwine. The cocks are huge, and everything is a blur of perpetual motion - on the stage, at the bar, on the floor of the club or wherever bare flesh can meet the same. Tomas Brand, Logan Rogue and Fabio Stallone can't wait for the customers, so they serially fuck each other to pass the time, leaving the air ripe with the scent of spooge and satisfaction. Jessy Ares plays "bad cop - bad-ass cop" with shy patron James Ryder, who needs to be shown what he wants. Zeb Atlas and Marcus Ruhl pit a collective quarter-ton of muscle against each other in a grueling fuck that would squash lesser men. Finally, mega-hung Jimmy Durano tells barkeep Jeremy Stevens he wants him and he won't take no for an answer. It's a tossup whether Stevens' fountaining orgasm is due more to the fat cock up his ass or the rimming that preceded it. Stripped 2: Hard for the Money gives you a look inside a strip club where massive cocks and hot sex always take center stage, and the prime directive is to have you cumming all night long!
Description / Review:
Scene 1: Fabio Stallone, Tomas Brand, Logan Rogue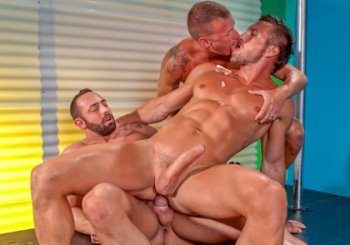 What do the strippers do when the club's not open for business yet? They fuck! FabioStallone and Logan Rogue tangle tongues while their rigid cocks press against the sides ofTomas Brand's grizzled face. With his broad, smooth chest and his muscular arms wrappedaround the thighs of Fabio and Logan, Tomas looks for every piece of meat he can find, ashis head swivels from side to side to suck first one massive cock, then the other. Tomas'sreward is to get his curved shaft squeezed, stroked and sucked by Logan and his tan-linedbuns spread and probed by Logan's tongue…a prelude to a sit-fuck that makes daddyTomas' massive shoulders bulge as he does dips on Fabio's cock. Theirs is a perfectlybalanced three-way, with each man bottoming in turn. No matter who is fucking whom, nocock goes unsucked. Then it's a triangular kiss as these guys grab their junk and stroke tothe finish, with their groans drowning out the music.

Scene 2: James Ryder, Jessy Ares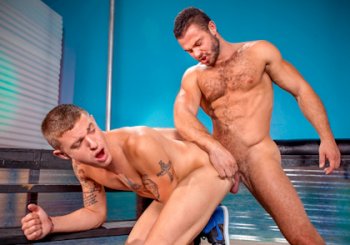 That cop stomping through the club is not there to make a bust; he's a stripper. Jessy Aresjumps onstage in full uniform and spins around the pole, jacking his nightstick and peeringout under his aviator sunglasses to make heavy eye contact with James Ryder. James is onestep removed from punk, with skintight jeans and tats along his arms. But James needsencouragement. Jessy has a strategy: he peels off his shirt to expose his hairy chest anderect, dime-sized nipples, then he uses the shirt as a lasso to pull James onstage. BewilderedJames is handcuffed to the dancers' pole. Jessy yanks the pants off him and commences afull-bore blow job, wrapping his lips and tongue around James's pole, then swallowing it.The assault takes a quantum leap when Jessy forces James to his knees and pile-drives hisuncut cock into James' mouth. Soon James's face is slick with drool and pre-cum. Jessy's goal is James' hole, so the cuffs come off. James goes down on his back, legs high, as Jessy massages his buns and flicks his tongue around James's taint while fucking him with thenightstick. That anal prelude shifts gears, to a full-fledged fuck, both men sweating bullets.James drops his load on the floor and takes Jessy's load on his mouth.
Scene 3: Marcus Ruhl, Zeb Atlas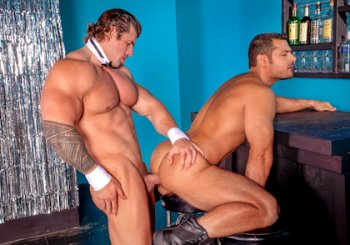 Zeb Atlas is bigger than huge, with biceps the size of his head, and he's smooth from nose totoes. Marcus Ruhl is the muscle-struck fan who coaxes Zeb off the stage for a one-on-onemuscle party. Zeb's cock is a smooth swallow for Marcus, whose roving hands are all overthe rest of Zeb's body. Zeb makes his massive pecs dance as he looks down at Marcus,whose cheeks are hollow with suction as he punishes his throat with humongous cock.Marcus, who has plenty of muscles himself, as well as some body hair, gets flipped aroundand bent over a stool so Zeb's dick can sample his other hole. Zeb pistons and Marcus'sflesh moves outward in ripples from the force. A change to sit-fuck lets Marcus control howfast, hard and deep he gets fucked and his cock ticks away the rhythm. Zeb increases thepace like a runner in the final stretch, the cords in his mighty neck standing out in high reliefas he and Marcus spew thick ropes of jizz.
Scene 4: Jimmy Durano, Jeremy Stevens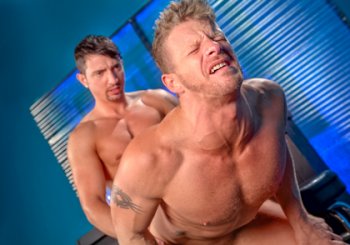 At this strip club, even the bartender gets a piece of the action. Jeremy Stevens is polishingthe glassware when Jimmy Durano ambles over, pulls out a giant hard on, and suggests thatJeremy polish that instead. Jeremy comes out from behind the bar, grabs hold of the dickbeing waved at him, and zeroes in on Jimmy's lips. Both men are shirtless. Jeremy's mouthtravels down over Jimmy's pecs and washboard abs to his cock, taking time to pinch andpull the foreskin with his lips before opening wide to suck. Jimmy's hands guide his cock,the base of which is fully as thick as his wrist, when not gripping Jeremy's head. Jeremysplutters and spits, grabbing Jimmy's balls for support. Jeremy is determined to inhale everyhard millimeter. Jimmy's need is for Jeremy's ass. He squeezes, probes, licks and kneads ituntil Jeremy is practically hyperventilating, then he rams his fat fuck stick in to the hilt.Jeremy's back arches like a cat in heat as he sets up a counter-thrust. Sweat breaks out ontheir bodies. A geyser of spooge erupts from Jeremy's cock while Jimmy is still fucking him,covering his chest and abs, then Jimmy adds his load to Jeremy's face.
Additional Information
Categories: UK R18 / XXX Gay Adult
Running Time: 127 mins, Year: 2012
Price: Around £32*
Starring: Jessy Ares, Logan Rogue, Fabio Stallone, James Ryder, Jeremy Stevens, Jimmy Durano, Marcus Ruhl, Tomas Brand, Zeb Atlas
Director: Tony DiMarco
Studio: Raging Stallion
Buy DVDs online at: Simply-Adult.com, Homoactive and Radvideo (USA)
Download Raging Stallion titles at: Homoactive (UK / EU) and RadVideo (USA)
Downloads / Gay Video on Demand: Raging Stallion, See also: www.GayVOD.co.uk
Country: USA, Language: English
Additional info: No Regional Coding