Summary:
Last addition in the Arabian Nights Series! The heat from the sun and desert can be oppressively hot, but the animalistic sex from these Arab men is scorching!
Description / Review:
Scene 1: Aybars, Dominic Pacifico, Tony Aziz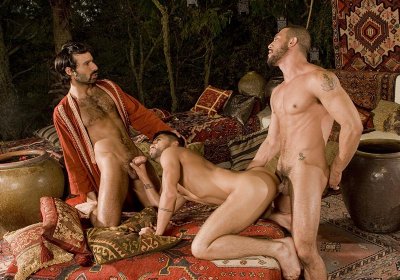 In the arid dry heat of the desert, Tony Aziz and Aybars are relaxing, taking refuge from the sun, and discussing current events over afternoon tea. Aziz asks the man servant, who is serving them, Dominic Pacifico, to give him a massage. Pacifico obediently obliges. Aybars sits back, as he watches this scene unfold. Pacifico massages Aziz's feet, moving up his leg, massaging the muscles along the way. Aziz pulls back his robe to reveal another muscle that needs to be worked on. Pacifico looks at Aziz, and knows what he's after, intuitively reaching for Aziz's cock. Speaking in Arabic, Aziz tells him "how good it feels," as Aybars watches from across the room, stroking his thickening fat meat. Pacifico begins to devour Aziz's throbbing cock, getting it all wet. Aybars decides to join in, and walks over and facing Aziz, presents his own cock to be serviced. Soon, they are wildly sucking each other. Aybars proves to be a great cocksucker, when he takes both Aziz's and Pacifico's cocks in his mouth, at the same time. A switch of positions and Pacifico is on his back, with one cock in his mouth, and one in his ass. Pacifico reclines in ecstasy, as Aybars fucks him with his big thick cock. They take turns swapping positions on Pacifico, both getting a chance to penetrate his ass. Aziz pounds his cock into Pacifico's ass, while Aybars wildly fucks his throat. Positions are swapped once again, and this time it's Aziz who is getting pounded by Pacifico. Aybars moves in and gobbles Aziz's, cock while he's getting pounded. Pacifico proves that he can give as good as he gets, fucking relentlessly until Aziz is moaning and shooting cum, all over his stomach. Pacifico pulls out in anticipation, and cums all over Aziz. This explosion works Aybars up, until more hot white cum is flying, covering Aziz in Aybars' and Pacifico's milky glaze.
Scene 2: Adam Killian, Francesco D'Macho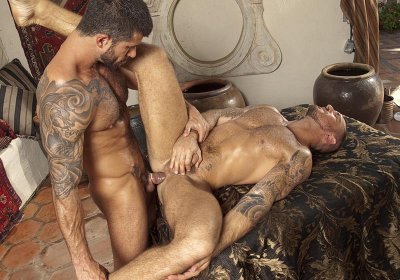 Trying to remain cool in the midday sun, Adam Killian rests within a stone arch, wrapped in a tunic. His body radiates heat and hormones. He tries to cool him self down with a douse of water. Dipping the ladle into the urn, he begins wetting his body and the cloth that covers him. He slowly strokes his hard cock though the wet fabric. Unwrapping the fabric, he reveals his beautiful ass, coated with the refreshing liquid. Francesco D'Macho enters, and uses the water to cool himself off, but it provides little relief from the constant heat of his groin. D'Macho can't resist Killian's water covered ass, so he goes in to suck the water droplets from his hole. D'Macho rims Killian with blood-thirsty abandon, as Killian pours more water on them, keeping both cool in the rising heat. Killian and D'Macho suck each others rigid hot cocks, as liquid continues to pour and drip from their bodies. Killian then bends D'Macho over a large clay pot, and shoves his fat cock up D'Macho's willing hole. Killian rides D'Macho's ass, opening it up for harder slamming; while D'Macho pushes back with greedy pleasure. D'Macho lustful greed increases, and hoists Killian up on the ledge. Slowly fucking Killian from behind, he pounds him good and hard. The lust is infectious, as Killian once again has his shot at D'Macho's ass, fucking him on his back. Fucking D'Macho hard and long, D'Macho moans in pure pleasure, as he strokes his hard fat dick. Killian picks up speed, and pounds him harder, repeating the loud slapping of skin, and increasing their moans of ecstasy. D'Macho jerks his cock wildly, as he shoots a load of his Arabian seed all over his hairy torso. Killian pulls out and adds more to the pool of cum, melting over D'Macho. Covered in sweat, water and cum, Killian kisses D'Macho passionately, finally able to quench the heat between them.
Scene 3: Alessio Romero, Antonio Biaggi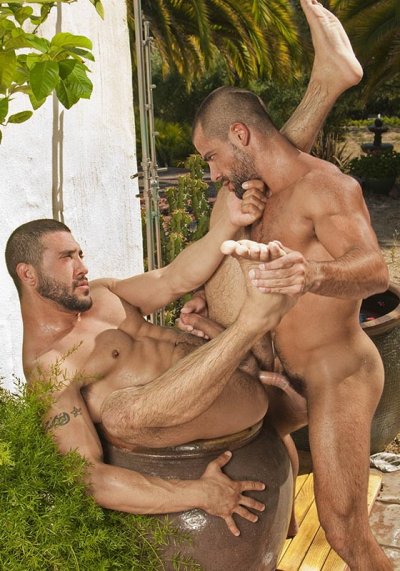 Cool water drips over Antonio Biaggi's lean torso, dripping down to his fat uncut cock, Alessio Romero sucks the water from Biaggi's cock, satisfying his thirst, but increasing his hunger for man meat. Romero sucks, spits and gags on Biaggi's cock as he shoves it in, and opens Romero's throat with raw abandonment. The two swap spit, pour water over each other, power kiss and suck each other's cocks. Soon, they are covered in water, spit, and sweat. Biaggi flips Romero over on to all fours, so he can get at Romero's hot hairy crack. Biaggi spits, before his tongue dives deep into his hole. As an ass man, he can't help but suck on Romero's yearning crevice. He pours water down Romero's rear and laps up the liquid flowing down the crack, tasting the refreshing sweetness of sweat and water mixed together. Biaggi then takes his monster member, and inserts it swiftly into Romero's eager ass. Biaggi grabs hold of Romero's hips, and rides him wildly; the two exuding unbridled man sex. The heat of the sun and their pulses build, as Biaggi douses Romeo's ass with water from a pitcher, and fucks him some more. Romero then straddles Biaggi and impales himself on the horse cock, his ass swallowing it whole. Romero braces himself against the back of Biaggi's neck, and riding the horse hung cock, like a bitch in heat. He choke holds Biaggi, as he is mercilessly filled with the huge appendage, and shivers are sent throughout Romero's body. Biaggi finishes Romero on his back, and plows his cock home, causing Romero's to spew gobs of white cum all over his hairy and sweat soaked torso. Biaggi then jerks his cock, releasing his man juice all over them both, as they collapse in the hot sun, drenched, exhausted, and full-filled.
Scene 4: Bruno Bond, Damien Crosse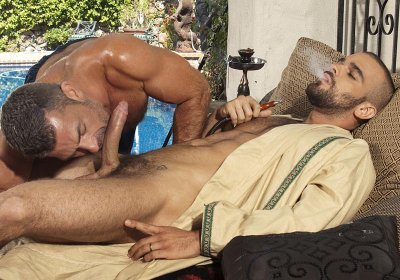 Damien Crosse enjoys laying back and taking tokes from his hookah, sheltered from the hot sun. He draws smoke into his lungs, exhaling slowly, savoring the sensation. Joined by Bruno Bond, he sits at the feet of Crosse, and is fed the hookah, passed down to him. Bond stares intently into Crosse's eyes, as he sucks on the hose of the hookah. While groping Crosse's cock, it becomes obvious he wants more than the hookah to suck on. Bond proceeds to alternate between Crosse's cock and the hookah, blowing smoke from his nostrils, as he inhales Crosse's hose. Bond gets Crosse's cock all wet, sucking slowly and deeply. He then lifts Crosse's legs, and stabs his tongue deep inside the hairy hole, making him moan for more. After Crosse has been serviced, he takes charge by mounting Bond from behind, and sticking his thick cock, deep inside Bond's hairy ass. Bond's face shows a mixture of pain with immense pleasure, as Crosse rides his ass wildly. The two fuck hard and long, building up beads of sweat, soon coating their bodies. Bond then lies back onto the Persian carpet and pillows, as Crosse fills his hole with his tool. Showing no mercy, he slides his thick member into Bond's gapping hole. Bond can't get enough. Soon, he's riding the thick pony, monitoring Crosse's own increased pleasure as he rides. The pace becomes accelerated, as the rhythm riding the stallion cock makes Bruno erupt, showering Crosse with his cum. Bond dismounts and laps up his hairy sweaty balls, as Crosse jerks his pleasure stick, until he also explodes all over his body. They melt together into the heat and air, becoming one with labored breathing.
Scene 5: David Dirdam, Tony Aziz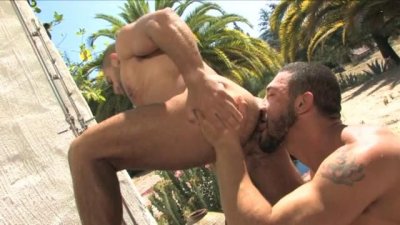 Cooling down in an outdoor shower David Dirdam allows the water to caress his skin, and muscular body. The water cascades over his hairy cheeks, and chiseled abs, down to the water soaked body wrap. His erect cock pushes up against the cloth, as he massages his growing cock through the light garb. Dirdam's hands roam over his body, caressing his muscles oh his torso, and his ass. Releasing his beautiful, uncut cock, from the confines of the cloth, Dirdam slowly strokes it, and let's the water fill his ample foreskin. Out from the distance comes Tony Aziz, he approaches Dirdam and joins him under the refreshing water. The two stare intently at each other, before engaging in a passionate kiss. Aziz caresses down Dirdum's body with his lips, licking down to the water flowing off his cock. Aziz swallows his member, and sucks the water from his skin. They take turns sucking each other's cocks, and kissing under the cooling spray. Aziz sucks Dirdum's juicy cock, and then turns him around to eat his hot ass, trying to quench his hunger. Tony then fucks Dirdum under the water, pounding his cock in his ass as the water rains all over Dirdum's back. Aziz thrusts hard and deep, making Dirdum moan to be pounded harder. Aziz then penetrates Dirdum, perched on the lid of an urn. Aziz slides his cock in an out with ease, as Dirdum's beautiful ass welcomes the long strokes. Aziz pounds him harder, deeper until the hard pounding makes Dirdum releases a load of cum all over his soaked torso. Aziz now yearning to be fucked by Dirdum's sill hard uncut cock, stands with his back to Dirdam and pushes his rear back to impale himself, on the thick piece of manhood. Dirdam pounds Aziz wildly, lifting him up intermittently, to deep kiss the dark stud. Dirdam forces his ass back down, and rides him hard again. Dirdam fucks him deep, burying his meat in the juicy ass, until Aziz jerks his cock and ejaculates all over the stone floor. The heat from the sun and desert can be oppressively hot, but the animalistic sex from these Arab men is scorching.
In this series:
Tales of the Arabian Heat 1 (2 DVD set)
Tales of the Arabian Heat 2 (2 DVD set)
Tales of the Arabian Heat 3 Arab Heat (2 DVD set)