Summary:
Transport yourself back to an ancient time when men were heroes and demigods. The Golden Age of the champion, when magic and myth were still alive and lust was not a sin. Marvel at the virile athletic form celebrated as living art in the stunning, hedonistic Raging Stallion feature, 'ERECTUS'. Male sexual desire kept the ceremonial flame forever burning and director Steve Cruz invites you to the orgies of Ancient Rome in his monumental interpretation of the sexual appetites of Herculean men. He assembles a cast of seven god-like studs whose physiques and sex drives haven't been equaled since the times of Sodom and Gommorrah.
Scene 1: Jaxton Wheeler, Teddy Torres
Wearing nothing but threadbare rags tied around their waists, Jaxton Wheeler and Teddy Torres face off in a Roman gladiatorial wrestling match. After several sweaty rounds of combat, Jaxton succeeds in putting Teddy in a headlock and rips off his the rag encircling Teddy's waist, revealing Teddy's hairy bubble butt. Jaxton claims his prize by burying his bearded face deep into Teddy's furry crack. Knowing his place, Teddy kneels down on the floor to orally service Jaxson's massive cock. Jaxton's huge legs bulge as he thrusts his hips, face fucking Teddy's endless throat. With his cock hard as a rock, Jaxton bends Teddy over and starts giving him a rough, doggy style fuck. As Jaxton rams his meat into Teddy's hairy ass, Ace Era peeps on them from just outside the door to the chamber, enhancing the excitement of voyeurism by stroking his cock.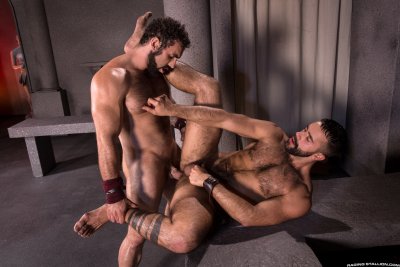 Moving on from doggy style, Teddy lies on his back and lifts his leg over Jaxton's shoulder. Jaxton delivers deep, powerful thrusts, pulling his cock all the way out and shoving it all the way in each time. The thick, dark fur covering Teddy's body is slick with sweat, spit, and lube. From across the room, Ace continues watching the action while working his thick shaft. Teddy punches Jaxton in the chest, urging him to fuck even faster and harder. The scorching hot action makes Ace shoot his wad, ejaculating a giant rope of white cum across his thigh. As Jaxton buries his tool inside Teddy, Teddy jerks his cock and shoots a huge jet of cum onto his hairy stomach. Jaxton pulls on and strokes out his hot, white load, which lands right on Teddy's hairy taint.
Scene 2: Tex Davidson, Ace Era, Teddy Torres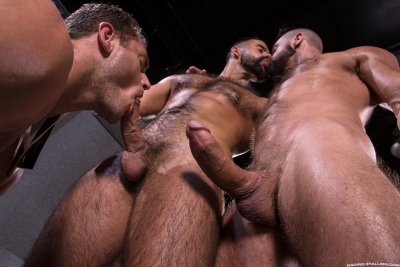 In the dark hall of the ancient Roman baths lust knows know bounds, dirty-blond stud Ace Era stands between Tex Davidson and Teddy Torres. Sinking to his knees, Teddy wraps his lips around Tex's massive cock. Tex thrusts his hips, driving his meat deep down Teddy's throat and showing off his ripped torso. Ace takes Teddy's place on his knees in front of Tex's dick. As Tex and Teddy make out, Ace alternates between sucking each of their cocks. After fulfilling his oral obligations, Ace turns around and spreads his ass apart, and Teddy and Tex take turns eating Ace's hole. With Ace's ass ready for pounding, Tex steps up and rams his meat deep inside. Crouched in doggy style post, Ace moans and grunts as Tex gives him the ride of his life. Turning on his back, Ace jerks his cock as Tex pounds heavily against Ace's prostate. Reaching the climax, Tex shoots his load across Ace's dick and balls, and Ace simultaneously splatters his cum across his rippling torso.
Scene 3: Jaxton Wheeler, Bruno Bernal, Ian Greene
Tattooed warriors Bruno Bernal and Ian Greene sit and make out while stroking their hard cocks. From the doorway, Jaxton Wheeler observes them and strokes his own meat. So turned on, Jaxton lets his lust take over and joins them. Laying on his back, Jaxton gives head to Ian while Bruno rides Jaxton's cock. Jaxton's massive, muscular chest heaves as Ian fucks his face. Sweat reflects the golden light as it hits their tan, hairy bodies. Ian grabs Jaxton's muscular pec before resuming fucking Jaxton's face. Faster and faster, Jaxton pounds Bruno's ass by thrusting upward. Switching things up, Jaxton gives it to Bruno doggy style. Grabbing Bruno by the hair, Jaxton pulls him backwards, impaling him ever deeper on Jaxton's monster cock. Bruno takes a break and lets Ian have a turn riding Jaxton's tool. Ian's frantic moans rise as Jaxton delivers the full power of his incredible physique to Ian's ass.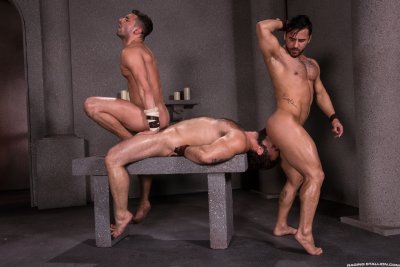 His thick cock slides in and out of Ian's tight hole, stretching the muscle ring more and more. Laying on his back again, Jaxton pummels Ian's hole from below as Bruno caresses Jaxton's hairy chest. Turning around, Bruno lowers his ass onto Jaxton's fearsome, bearded face, and Jaxton rims Bruno with intense vigor. For the grand finale, all three men stand together. Ian bends down to suck Jaxton's cock, and Bruno sucks on Jaxton's nipple. Pressing Ian's face into his crotch, Jaxton unleashes a massive load across Ian's cheek. Bruno strokes his uncut cock, dripping his hot, white load onto the floor. On his knees, Ian jerks out his thick, creamy load, then stands to exchange a slow, passionate, three-way kiss with Jaxton and Bruno
Prepare yourself for the godly physiques, visceral intensity, and masculine passion of 'ERECTUS.'
Scene 4: Ian Greene, Bulrog
Bulrog rims Ian's tight hole, and Ian returns the favor by sucking Bulrog's girthy cock and taking his load right in the face.
Additional Information
Categories: UK R18 / XXX Gay Adult
Running Time: 190 mins, Year: 2017
Price: Around £30*
Starring: Bruno Bernal, Ace Era, Jaxton Wheeler, Tex Davidson, Ian Greene, Bulrog, Teddy Torres
Director: Steve Cruz
Studio: Raging Stallion
Buy DVDs online at: Simply-Adult.com, Homoactive and Radvideo (USA)
Download Raging Stallion titles at: Homoactive (UK / EU) and RadVideo (USA)
Downloads / Gay Video on Demand: Raging Stallion, See also: www.GayVOD.co.uk
Country: USA, Language: English
Additional info: No Regional Coding