Summary/ Description:

Every day Francesco D'Macho puts himself in harm's way. You see, he's Addicted. Not to drugs, sex or alcohol. He's a voyeur. He stalks hot men, with a camera in one hand and his cock in the other. He knows from how Damien Crosse and Alex Marte kiss, the way their pants are tented, they intend to fuck. With his shaven head, bright tatts and sinewy arms, it's hard for Francesco to be inconspicuous, but high powered binoculars afford up-close views of a hard-bodied flip-fuck. Francesco wants to catch Sergi Serrano and Scott Carter in the act. Being Addicted drives him to plant cameras in their apartment…and wait. Dark, smooth Sergi is a head taller than pale, furry Scott, but height doesn't matter when you're on your knees or on your back. These guys sweat enough to fill a tub. Francesco grows bolder each time addiction strikes. He hides in the bedroom while Goran thumb-fucks Massimo Blade's ass prior to a writhing fuck…and leaves a sticky spot on the floor. Lucio Saints and Tomy Hawk tease each other by cock jousting in boldly colored undies. Each takes the full measure of his lover's cock in his ass, but Francesco blows his cover…and now he must blow Tommy and Lucio. Being Addicted has its risks. Directors Steve Cruz and Bruno Bond raised the heat on their trip to Madrid and now you can bask in it...and bask in a load of your own.
Scene 1: Damien Crosse, Alex Marte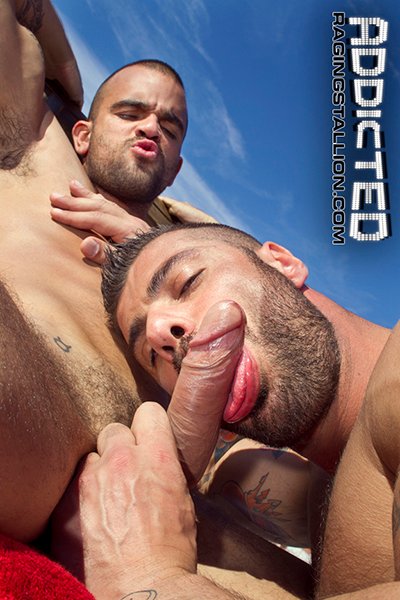 Muscle studs Damien Crosse and Alex Marte spend an entire afternoon fucking each other on a rooftop in downtown Madrid, out in the open and under the sun with the whole city watching — including Francesco D'Macho, who gets a close-up view with a pair of binoculars! These men love sex, and both are experts in the art of pleasure. If you are a fan of hairy bodies and Olympian muscles, this switch-hit scene is a must match. Damien, one of the greatest porn stars of our time, never looked better with his dark handsome Cuban looks, and Alex Marte may very well be the top bodybuilder in porn today! Some back story of this scene — since it was shot out in public, the Spanish police actually raided the set during filming, responding to complaints from all across the city! But the police in Spain are cool guys — rather than stop the shoot, they just asked the actors to hurry up with their cum shots! Damien and Alex were so turned on by these two straight policemen that they blew the biggest loads of their careers!
Scene 2: Francesco D'Macho, Goran, Massimo Blade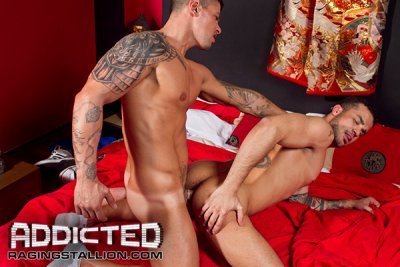 Francesco D'Macho wants to see Massimo Blade and Goran fuck, so he hides in their bedroom and waits, cock in hand, for bedtime. Within microseconds of helping each other out of their shirts, they are grabbing pecs, sniffing pits and biting nipples. Francesco's view makes his cock harder. He hears clothes being tossed, sees the fantastic creatures inked on Goran and Massimo come to life as they get each other fired up. The objects of his voyeurism fail to hear his clothes drop to the floor with theirs. Squeezing Goran's cock in his throat, Massimo spreads his tan and hairy buns, using fingers as a placeholder for the hard meat he'll soon have there. Goran's thumb replaces those fingers, which Massimo licks the musty juice off of. They connect in a sit-fuck, Massimo sucking Goran's thumb and caressing his own hard, smooth torso as Goran bounces, intent on taking every inch. Fucking is aerobic as they switch to missionary. Goran's quarter-sized nipples swell from ovals to circles as he curls his torso to drive deeper into Goran. Francesco's cum-cries are masked by those from Goran and Massimo, who erupt with steamy loads and fall asleep in each other's arms, allowing Francesco to escape.
Scene 3: Scott Carter, Sergi Serrano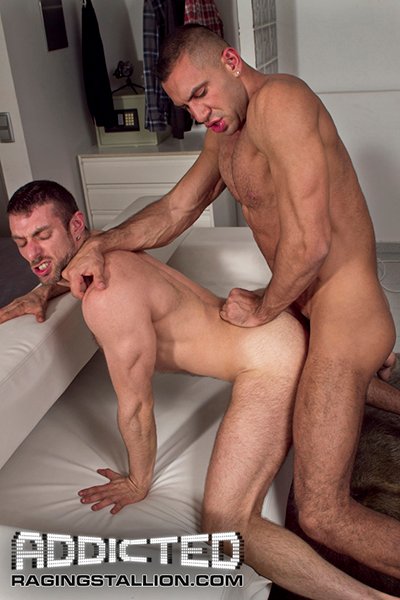 Determined to watch Sergi Serrano and Scott Carter fuck, Francesco D'Macho hides video cameras in their apartment. He's rewarded when Sergi and Scott get home from their workout and combine sex with a shower. Scott is the smaller of the two men. Despite his hairy body rippling with muscles, he lets Scott dominate him with spitting, slapping and general physical mauling that gets them both hard and horny. Sergi's boner stretches the front of his briefs so much, you can only believe it when you see it. Scott blows his hung boyfriend in the shower, but they need more space for fucking. A couch gives Scott room to spread his legs so Sergi can get his face and fingers deep in Scott's muscular crack. The more Scott gets man-handled, the harder and faster he pushes his booty onto Sergi's pole. Watch as Sergi drives his huge dick deep into Scott's gaping ass. This is Raging Stallion at its very best. Scott's body hair is pasted to his skin with sweat when Sergi flips him. Scott's hardon bounces with the momentum of the thrusts. Sergi, now at max erection, wants to cum in Scott's mouth, and Scott must work to swallow his huge meat, but he brings both of them to wet, sloppy orgasms and Sergi sucks his jizz back out of Scott's mouth.
Scene 4: Francesco D'Macho, Lucio Saints, Tomy Hawk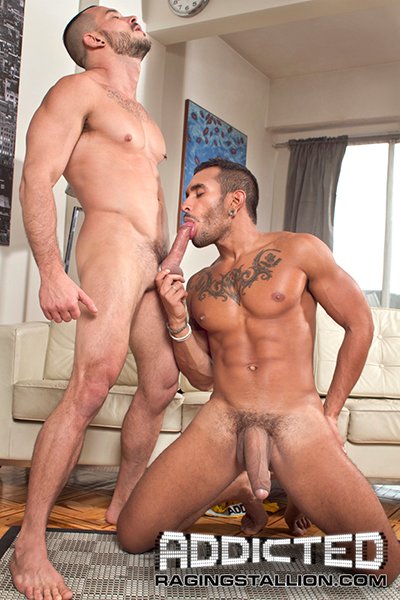 Lucio Saints and Tomy Hawk are too horny to close the curtain, giving voyeur Francesco D'Macho a chance to jack off the way that makes him hardest: watching hot guys fuck. His cellphone records the bulges and spreading wet spots in their shorts, so he can watch again on the train ride home. Lucio and Tomy have matching smooth torsos, 5 o'clock shadows, firm bums and pumped pecs, and Lucio has a defined tan line. He crushes his lips against Tomy's, then he crushes them against Tomy's cock, as if sucking the cum out. When it's Tomy's turn to give head, Lucio's cock nearly doubles in size from the suction of his human vacuum pump. Topping and bottoming are shared in this exciting exchange. Tomy's body is so hard, the only flesh that moves when he's pounded is his dick. Lucio jumps aboard that dick for a quick ride, then resumes fucking Tomy. So it goes: flip and flop, two asses in perpetual motion. Until Francesco moves too close to the window. As quickly as Lucio jumped on Tomy's cock, he leaps to the window, grabs Francesco and pulls him in. Is this a voyeur's dream come true? Lucio and Tomy face-fuck Francesco until they cum in his mouth and on his hairy chest, as he squirts massively onto the floor.
Additional Information
Categories: UK R18 / XXX Gay Adult
Running Time: 129 mins, Year: 2013
Price: From around £32*
Starring: Alex Marte, Damien Crosse, Goran, Francesco D'Macho, Lucio Saints, Massimo Blade, Scott Carter, Sergi Serrano, Tomy Hawk
Director: Steve Cruz
Studio: Raging Stallion
Buy DVDs online at: Simply-Adult.com, Homoactive and Radvideo (USA)
Download Raging Stallion titles at: Homoactive (UK / EU) and RadVideo (USA)
Downloads / Gay Video on Demand: Raging Stallion, See also: www.GayVOD.co.uk
Country: USA, Language: English
Additional info: No Regional Coding